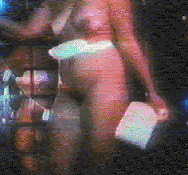 The show starts with a woman appearing on stage with a white slip over her chest reaching to below her crotch. In her hand is a piece of paper. She dances a bit then pulls down the slip to expose her breasts. Next, she lifts up the bottom of the slip and folds it around its elastic band, exposing her naked lower parts.
She dances some more then spreads her legs wide and bends over to insert her fingers into her vagina. She pulls out a razor blade on a string. She keeps pulling the string and out comes another razor blade.... and another razor blade... and more razor blades.
Then, with one end of the string still inside her, she uses a razor blade to slice the piece of paper, thus verifying the blade's sharpness.
In this photo you can see the white slip bunched around her waist; the string with the razor blades; and the paper, which she hasn't yet sliced.
Back to Cleo's Homepage