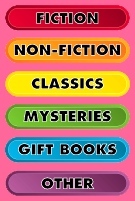 Gay/Lesbian/Feminist Bookstores Around the Country
The Mostly Unfabulous Homepage of Ethan Green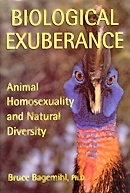 Ritual
From Biological Exuberance
Where do human rituals such as taking an oath come from? In a fascinating study of Savanna Baboon social systems, primatologists Barbara Smuts and John Watanabe offer a startling answer: they suggest that such symbolic gestures might be traced to the ritualized homosexual activities that take place between male Baboons.
As part of their social interactions, male Savanna Baboons perform a variety of formalized sexual and affectionate behaviors with each other, most notably "diddling," that is, fondling of the penis and scrotum. Other ritualized homosexual activities include mounting; grabbing, fingering, and nuzzling of the rump; kissing and nuzzling of the genitals; and embracing and kissing on the head or mouth (similar activities are also found in a number of other primates, including Common Chimpanzees, Bonnet Macaques, and Crested Black Macaques.)

A female Olympic Marmot mounting another female Illustration by John Megahan, © 1999
Although these behaviors undoubtedly have an affectionate or "pleasurable" tactile component as well as a sexual dimension, they have also been characterized by some scientists as "greetings" interactions, and it is thought that they may serve to negotiate and solidify cooperation between males as well. Indeed, two males sometimes pair up and form a stable "coalition" with each other in which their mutual defense and aid is symbolized by the reciprocity of their ritual sexual exchanges with one another.
Smuts and Watanabe suggest that sexual gestures such as diddling, which involved one male placing his most vulnerable and intimate organs literally in the hands of another, are in a sense a prototypical form of oath-swearing: one male, by his actions, is indicating his trust and commitment to cooperate with the other.
But what does this have to do with human rituals of oath-taking? In our society at least, oaths usually involved gestures such as raising of the right hand, crossing the heart, or perhaps even placing the hand on a Bible, but certainly nothing so forward as fondling of the genitals. Surprising as it may seem, though, Smuts and Watanabe present some intriguing clues that gestures similar to the ritual homosexual activities of Baboons (and other primates) may in fact have been a part of human oath-taking at one time and are even still used in some contemporary cultures.
In a number of Australian Aboriginal tribes, for example, holding of the penis is traditionally used as a gesture to express male allegiance and cooperation, as well as a ritual part of resolving disputes between "accused" and "defending" parties. Among the Walbiri and Aranda people, when different communities get together or when grievances need to be settled in formal "trials," men participate in what is known variously as touch-penis, penis-offering, or the penis-holding rite. Each man presents his semi-erect organ to all the others in turn, pressing it into each man's palm and drawing it along the length of the upturned hand (held with the fingers towards the testicles.)
By offering and grasping each other's penis -- said to represent "paying one's life" -- the men make an avowal of mutual support and goodwill between them, or symbolize and solidify the agreement they have reached during the settling of a dispute. A similar gesture involving stroking of the genitals and/or scrotum is used as a greeting in some New Guinea tribes such as the Eipo and Bedamini.
Closer to home, there is historical -- even biblical -- evidence that similar rituals may have been a part of the Judeo-Christian and Euro-American heritage. Ironically, the book that is today used in so many of our own oath-swearing ceremonies contains within in an allusion to these earlier practices. In Genesis 24:9 there is a reference to the servant of Abraham swearing an oath by placing his hand under his master's "loins."
Moreover, according to the Oxford English Dictionary, the words testify, testimony, and testicle are probably all related, sharing the common roots testis, which originally meant "witness." Although these connections are somewhat speculative, they suggest a line of continuity between ritualized homosexual behavior in primates and human social rituals such as oath-taken. As Smuts and Watanabe point out, notions of truth and sanctity as expressed by the human ceremonies are vastly different from those of Baboons (if present at all in the nonhuman context.) Nevertheless, the forms of these rituals -- and their social outcomes -- are strikingly similar.



Sounds good, right? Read more:

Copyright © 1999 Bruce Bagemihl.




Back to the Stonewall Inn