Briefly Told Lives
Introduction
Excerpts: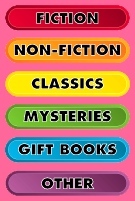 Gay/Lesbian/Feminist Bookstores Around the Country
The Mostly Unfabulous Homepage of Ethan Green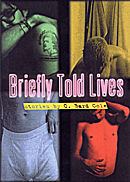 Briefly Told Lives


By C. Bard Cole


In Briefly Told Lives, C. Bard Cole presents a wild panorama that sweeps from the urban gay ghetto to working-class suburbia to the counterculture of punks and sex workers – a shockingly original view of lives lived on the edge of both straight society and the gay "mainstream." A broad tapestry in which conventional dividing lines begin to lose their fixed meaning, these stories tell of characters who spin their own master narratives, revealing lives rich in meaning and bought dearly through pain and compromise.
Intense and rewarding, C. Bard Cole's debut collection exposes the complexities and contradictions of personal identity in a world devoid of grand truths and shared values. Briefly Told Lives is brash and insightful, bringing a very different, hidden world into the literary limelight.
C. Bard Cole is one of the leading literary figures to emerge from the queer punk movement of the 1990s. His fiction and cartoons have appeared in Holy Titclamps, Riotboy, Dirty, Boy Trouble, and queer zines, as well as in self-published chapbooks like Tattooed Love Boys and Fag Sex in High School. His stories have appeared in numerous anthologies, including Men on Men 7 and Flesh and the Word 4. Born in Baltimore County, Maryland, he attended Sarah Lawrence College and Parsons School of Design. He lives in the East Village in New York City.
Advance Praise for Briefly Told Lives
"C. Bard Cole's Briefly Told Lives is fresh, sweet, lucid, raucous, and amazingly free of the corner-cutting, soft-pedaling, pseudo-literary tropes that constitute most of contemporary fiction. The way these stories face the fucked-up music of love, sex, loss, and social injustice, and maintain their curiosity and style, is a really new, rare pleasure."

— Dennis Cooper, author of Frisk and Period
"No one writes more compellingly about sex than C. Bard Cole. He is a master of confused longings, clear-eyed chronicler of ambiguous desire, purveyor of desperate acts of love. He charts the course of badly lived lives with great economy and wit. If this book doesn't stir you, then maybe you should consult your doctor. If this book doesn't make your heart ache, then the situation's probably hopeless."

– Paul Russell, author The Coming Storm and Boys of Life
"C. Bard Cole's provocative and entertaining prose makes Briefly Told Lives an exhilarating collection. Gritty and genuine – a terrific debut."

— Katharine Weber, author of The Music Lesson
"One of the most exciting debuts I've had the pleasure of reading, by a young author whose eye for squalor and tenderness are equally authentic. The characters and voice were so compelling that I literally didn't want Briefly Told Lives to end."

– Poppy Z. Brite, author of Exquisite Corpse and Lost Souls
Read an interview with C. Bard Cole at thestranger.com. You can also visit the author's personal Web site.
Table of Contents:
On a Railroad Bridge, Throwing Stones
Used to Dream
Selected Lives in Brief
Mark Findlay
Paul Honishiro
Darin Brock Holloway
The Mother
Michael Mc___: A Case Study
Additional Selected Lives in Brief
James Loughlin Childes
Royl "Lucky" Conors (& Richard Sparks)
Michael Wheeler
Foo Dog
Young Hemingways
More Selected Lives in Brief
Mitch Huber
Sean M. MacDonald
George Gordon Plowhees
That's How Straight Boys Dance
Copyright © 2000 St. Martin's Press.


Back to the Stonewall Inn