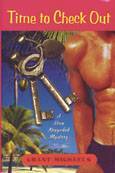 An Excerpt From Chapter One
Time to Check Out
Everyone out there wants somebody dead.
You can admit it. You've thought about it too. Yesterday, today, or tomorrow, however fleeting or enduring, however naked or veiled, the desire lurks in all of us.
I gazed down from my guest house window. Lines of people passed by on Duval Street, in couples and singly, locals and tourists, stray cats and geckos, all out for a morning stroll along Key West's commercial way. And I knew that every living creature on that sidewalk had at some time or other, in whatever language their killer instinct spoke, hurled the same fatal directive toward friend, neighbor, relative, spouse, mouse, boss, or bug: Time to check out, doll.
Despite the air-conditioning in my dim little room, sweat oozed from my heat-swollen brain and trickled past my eyes down the side of my face, creating a salty rivulet that got waylaid by the stubble of four days' growth of beard. October in Key West meant a last tidal wave of heat and humidity -- stifling, oppressive weather that exhausted as much during sleep as in the so-called waking hours. And with my hypersensitive skin, avoiding the sun was an all-day preoccupation.
I had driven south from Boston to escape a dreamy life that had gone haywire. My lover had been killed the previous summer. Like all accidental deaths, it was senseless. He had been crossing a busy street while distracted by the sheer romantic beauty of his hometown, Paris. A changing traffic signal had combined with a faulty brake line on a UPS delivery van (pronounced "ooh-pay-ess" in France), and my man Rafik was alive no more. Defunct.
For whatever it was worth, there was a consolation prize. UPS had made a landmark decision and had settled generously with a domestic partner. That is, me. They took full responsibility for the accident and awarded me a zillion francs, which converted at the time to roughly three and a half million dollars. Rafik's own extravagant life insurance from the ballet company left me another million. So I was, at least from my working-class perspective, rich.
But was I smiling?
I shaved my head and mustache to remind myself that life could change without warning at any time. Then I packed my summer togs, threw the bags into my Alfa Spyder (that's another whole story), and set off as the Widow Kraychik for what I'd hoped would be sanctuary: a guest house in a quiet off-season resort town, where I could regain some sense of equilibrium and find my new self.
Nothing turned out as planned. I found myself all right, smack on the southernmost latitude of the whole continental United States, at the last stop on U.S. Highway One, the end of the line, Key West, the asylum reef.
But that morning I had more pressing business than to fret about happiness or its loss, or even about sunshine and humidity. I had to change guest houses. I was staying at a place called the Crow's Nest, a restored Victorian mansion on Duval Street, at the east end of town. The manager, an old biddy named Augusta Willits, had taken an instant dislike to me. Maybe I reminded her of someone else, a nephew gone bad or something. Whatever the reason, I'd been asked with nary an apology to "vacate the premises" because of "emergency repairs" to the building. Mind you, the place was in flawless condition.
I had just returned from breakfast when I found a note tacked onto the door of my room. It was penciled in a nasty scrawl: CHECKOUT TIME IS 11:00! It was only a little past the hour, and I didn't see the reason for such urgency. Key West was a resort town after all. People were on vacation. Things were a little more relaxed -- weren't they? -- especially off-season. From what I'd seen at the Crow's Nest, the housekeeping staff didn't even show up until late in the afternoon. Why the fuss over a few minutes?
I reminded myself that nothing mattered anymore. Besides, my next abode, the Jared Bellamy House, was even nicer, and they had approved of the stubble on my head and face -- very butch for me -- when I'd gone that morning to arrange for a room. My hair was already glistening with its natural coppery sheen. But I saw silver too, which hadn't been there before. Another rite of passage, I guess.
So I repacked my bags back into the Alfa's tiny trunk, then headed to the Crow's Nest office to turn in my room key, hoping perhaps to irk Augusta Willits one last time and demand a refund for all the inconvenience. But the office was empty. I called out a few times without an answer. Then I heard the muffled chirping of an electronic alarm clock.
Beep-beep-beep. Beep-beep-beep.
I couldn't locate it at first, then realized it was coming from down behind the counter. I peeked over and heard myself mutter, "Aw, Jesus."
Augusta Willits was crumpled on the floor. Her tightly braided white hair was in disarray, and she looked cyanotic.
Beep-beep-beep, went the clock. Beep-beep-beep.
I ran behind the counter to help her. She wasn't breathing, and she had no pulse. A small electronic alarm clock had been jammed far into her mouth. It continued its discreet signal that the time for something had arrived.





Back to the Stonewall Inn