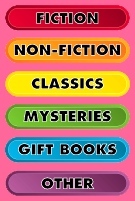 Gay/Lesbian/Feminist Bookstores Around the Country
The Mostly Unfabulous Homepage of Ethan Green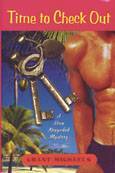 Time for an Interview
Grant Michaels interviews Stan Kraychik on the publication of his new mystery, Time to Check Out
GM:

So, Stan, how does it feel to have the fifth episode of your life's story published for all the world to see?

SK:

No one said the road to celebrity would be private



GM:

With all your escapades, when do you find time to write?

SK:

That's a funny question, coming from you.


GM:

Well, you do write the books, don't you? I mean, they're all in the first person. Or is this whole thing a hoax?

SK:

Sorry, what did you ask me before?



GM:

When do you find time to write?

SK:

For important things my Aunt Letta used to say, "You don't find time, you make it." All the world's great movers and shakers know that. I can create five hours out of thin air every day.



GM:

How?

SK:

First off, I don't do housework. Second, I don't belong to a gym. And third, I have no beauty regimen to speak of.



GM:

Yes, and all three points are quite evident as I sit here in your... (looks around dubiously) What exactly is this room?

SK:

It's going to be the library as soon as I get some books.



GM:

That might help. So tell me, Stan -- and I know many of your readers are probably wondering the same thing -- do you and the cop ever, you know, get together?

SK:

You mean Branco?



GM:

(smacks lips) Him.

SK:

What do you think?



GM:

I think you and the burly brute will finally make it in some small town honeymoon motel, on a heart-shaped waterbed fitted with pink satin sheets.

SK:

(dreamily) On Valentine's Day



GM:

(sighs) Yes...

SK:

Get real! Branco would never do that.



GM:

Why not? He's sexually vague. Maybe he needs a little encouragement.

SK:

Have you read the books?



GM:

A few times, at least.

SK:

Then you should know that sexually speaking Branco is not vague.



GM:

So what's going to happen?

SK:

There's only one way for Branco to express himself sexually, and that's how it's going to happen.



GM:

(pause) Well?

SK:

Well what?



GM:

Aren't you going to tell me?

SK:

Of course not. I want people to buy the book.



GM:

Which book is that? The new Key West one?

SK:

No. It'll be two books from now. Right now there's the new Key West one, which if I may say so, is an absolute hoot. Time to Check Out. Be sure to tell everyone about it. Following that will be the story of my real estate fiasco in Boston's South End, where I save Branco's life.



GM:

Real estate?

SK:

What else do you do when you have too much money?



GM:

What will that book be called?

SK:

Dead as a Doornail.



GM:

Due out when?

SK:

God only knows but Time to Check Out is out there now.



GM:

So is it after that that we will find out what happens with Branco?

SK:

You seem obsessed with the man.



GM:

Aren't you?

SK:

Branco doesn't faze me in the least. If you read any of the books, as you claim to have, you'd already know that.



GM:

But we do find out about him, right, two books in the future? What's that one called? Here Comes the Cop?

SK:

(groans) Who hired you? It doesn't have a title yet.



GM:

Any dates?

SK:

I haven't got a single date from any of my books.



GM:

Oh dear. Then let's talk about something more pleasant. What about Nicole?

SK:

Well, I won't be working much at Snips Salon, not with all my newfound blood money. But Nicole will always be the balancing influence in my life. She's like my big sister.



GM:

So she'll return in future books, even though she's absent from Time to Check Out?

SK:

She's not absent from that book at all. Who told you that? She's just not there in Key West with me. But Nicole is in my life every day. You know, doll, you really ought to read the books of the people you interview. It shows.



GM:

Perhaps I have been a bit lax. But I've been very busy with a project of my own. I write too, you know.

SK:

Really? Do you have a pen name?



GM:

Not for this one. Anyway, we're talking about YOUR new book, and I have to say it's been a pleasure.

SK:

Has it?



GM:

I hope Time to Check Out enjoys a huge success.

SK:

You'll be among the first to know.



---
GRANT MICHAELS is the pen name of an obscure author who has held the usual run of odd jobs before the Stan Kraychik saga (which includes A Body to Dye For, Love You to Death, Dead on Your Feet, Mask for a Diva, and now Time to Check Out) finally saw print.

STAN KRAYCHIK is the fictional star of Grant Michaels's books whom often seems much more real than Michaels himself.




Back to Time to Check Out

Back to the Stonewall Inn