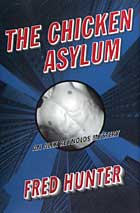 The Chicken Asylum
From Chapter One
By Fred Hunter
We went through the swinging door into the living room and Peter slammed into my back when I stopped dead. Mother was seated on the couch, tea service for two was on the oval coffee table in front of her, and Duffy the dog's errant tail was swishing back and forth under the table like a furry tongue licking wooden lips. The visitor rose to greet us. It was Agent Lawrence Nelson, our boss from the CIA.
Nelson was still as striking as ever, with skin that looked perpetually tanned and straight dark hair kept at a businesslike length. A tiny bit of gray had appeared at his temples, and I liked to think we had a hand in putting it there. Over the past year our connection with Nelson and the CIA had picked up somewhat. Nelson had been pleased enough with our performance that he threw more work our way, although that work still mainly amounted to courier-type assignments that usually required only my participation: things like carrying an important package from one terminal to another at the airport, or meeting some VIP's plane and making sure he got to his hotel all right. Of course, I was never told what was in the packages, or who the VIPs actually were; but the pay was good, and I'd gotten to the point where I didn't mind being a secret carrier pigeon. I couldn't expect much more, since we live in Chicago, and most of the espionage here involves local government rather than national.
But I always hoped these little assignments would lead to bigger ones, and sometimes they did. I had a feeling this was one of those times, because none of the usual things we were asked to do required Nelson to leave his aerie in D.C. and honor our little hovel. His presence meant something important was in the works.
"Did you enjoy your dinner?" he said with his usual enigmatic elegance.
"How did you know we were out to dinner?" I asked suspiciously.
"Your mother told me."
"Oh." I could feel my face hotting up.
Mother gave me her most wicked smile. "It gave me quite a turn for Larry to show up while you were out. The moment I clapped eyes on him, I thought, Lor', what has Alex gotten us into now? But he assured me that this has nothing to do with you."
"Thank you?" I replied questioningly, not knowing how happy I should be about the way she'd put that.
"What's going on?" asked Peter, whose tone always remains rather firm when confronted with Nelson.
"I haven't the foggiest," Mother replied, motioning for all of us to sit. "Larry arrived just before you did."
Nelson resumed his seat and Peter and I pulled up chairs on the opposite side of the coffee table.
"We want to enlist your aid in something fairly important," he said. "And I wanted to wait until you returned before getting into it because it involves all three of you, to some extent, and it is likely to upset the routine of your household."
"Our household?" said Peter.
"A stakeout!" I exclaimed. "You mean you want to use our house for surveillance!"
"You'll have to excuse Alex," Mother said to Nelson. "He's a hopeless romantic."
Nelson was looking at me with his usual lack of emotion, but the pause indicated that any show of eagerness on my part was suspect. According to CIA protocol, you're supposed to want to help, but you're not supposed to look like you want to help. At least, not enthusiastically.
"No, it's not surveillance," he said, then turned back to Mother. "It's a bit more intrusive."
"Good heavens!" she exclaimed "I don't like the sound of that!"
"Let me explain. As you probably know, if you pay any attention to the news at all, we've been keeping a close eye on Iraq --"
"You could hardly do that from our house," I said.
"Alex, please!" said Mother.
"We've been making periodic attempts to find their cache of chemical weapons. That is, the United Nations team has. Unsuccessfully. We've found signs that they have them, but never the weapons themselves. On one of their recent inspections, the team was approached by an Iraqi soldier, very much on the quiet, who has offered us help."
He stopped, and after a pause, Mother said, "Yes?"
"He told us that he can pinpoint not only the location where the weapons are usually kept, but the many places to which they're moved when we make our inspections. And he's willing to do this in exchange for sanctuary."
"Yes?" Mother said again, drawing the world out warily.
"And we have agreed to this."
"What makes you think he has the information?" I asked.
"We have enough reason to believe that he's in a position to know what he says he knows. We had to move quickly, because if anybody over there even suspected that he'd approached us, he'd be dead. To say nothing of what would've happened to him if they knew what he was planning to tell us."
"I don't understand," said Mother. "Why did he approach you in the first place? Why does he want to leave Iraq?"
"He has his own reasons."
"And they are?"
"His own."
"Larry," Mother said impatiently, "surely you don't --"
"We also believe that his reasons for needing to leave Iraq are valid," he said, cutting her off. "Valid enough that he would risk betraying his people, who would surely kill him if they found out about it."
"I see," said Mother meaningfully.
"I don't," Peter said. "All of this is very interesting, but what does it have to do with us?"
Nelson sat back comfortably against the back of the couch. The move was more casual than anything I'd ever seen him do. It couldn't be a good sign.
"He'll need to be debriefed."
"You mean questioned," Peter said flatly.
Nelson ignored him. "We'll need a few days to talk to him, get all the information he can give us, and hopefully check to see if any of it is true -- although I doubt very much that he'd lie to us and run the risk of being sent back."
"So?"
"And we'll need a safe house in which to do that. Somewhere that he can stay for a few days while we debrief him. Someplace nobody would suspect."
From the silence that followed this statement I knew Mother and Peter were as stunned as I was.
"A safe house?" I said incredulously. "You mean here?"

Copyright © 2001 Fred Hunter.




Back to the Stonewall Inn