Man
An Intro by Paul Ryan
Trevor Watson photos :
Tony Butcher photos :
Za-Hazzanani photos :
Toni Catany photos: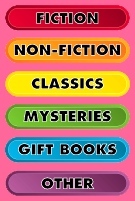 Gay/Lesbian/Feminist Bookstores Around the Country
The Mostly Unfabulous Homepage of Ethan Green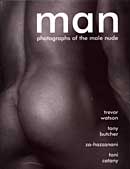 Introduction
By Paul Ryan
When we speak of the nude today it is generally assumed that we are referring to the female form but, in art historical terms, this is a relatively recent development. For the Ancient Greeks and for the artists of the Italian Renaissance, from whom came the two greatest traditions of Western art, the nude male was the dominant ideal. In addition, 2,000 years of Christianity have given us one of the most potent and prolific images in our culture: the near-naked Christ crucified, an enduring symbol of suffering, sacrifice, and, finally, the spiritual triumph of life over death.
At the close of our own century, the representation of the idealized male nude still has unfortunate associations with the worst excesses of fascist art, and Christianity has been shaken, not so much by revolution as by a growing loss of faith. Images of the female nude proliferate and are discussed, debated and analyzed from a rich variety of perspectives; the male nude, by contrast, has been rendered problematic, reflecting the unresolved crisis of Western masculinity. It would be foolish, therefore, to introduce a selection of male nudes without acknowledging the cultural burden that such images carry, but it is equally true that there is a balance to be redressed and that this requires us, men and women, to look unashamedly at our own fears and desires. It also requires us to examine the special place accorded to photography in the world of visual arts.
In preparing this Introduction, I spoke to a number of women about their attitudes to the male nude. It appears that the 'amusing accessory' plays a significant part in female appreciation of the male body. Only one woman claimed to prefer viewing the image of a flaccid penis because, she said, of the "potential" it suggested. Generally speaking, erections were considered essential. This connects with Ricard's observation. A nude female can look aroused simply by an attitude of the body allied to a facial expression of desire; a male whose penis is visible cannot really look aroused without any evidence of an erection. As a result, a man can look at an image of a naked woman and feel himself desired by her; a woman looking at an unaroused man cannot feel herself desires but must instead "arouse" the man in her imagination in order to receive an erotic charge; the phrase "a woman's work is never done" comes irresistibly to mind. If the sight of an aroused male is "threatening," it would not always seem to be so to women, although it might be seen as such to men who consider themselves exclusively heterosexual. Few women, straight or gay, have difficulty in appreciating the physical beauty of another woman; the majority of straight men still have a problem in acknowledging the physical attractions of another of their own sex.



Copyright © 2001 Paul Ryan.

Back to the Stonewall Inn