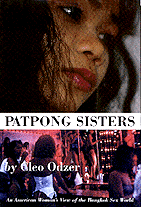 PATPONG SISTERS: AN AMERICAN WOMAN'S VIEW OF THE BANGKOK SEX WORLD ISBN 1-55970-372-5, by Cleo Odzer, Ph.D.
PATPONG SISTERS is a non-fiction personalized story about Patpong, a red-light district in Bangkok, Thailand. It's based on the three years of research she did there, including a romance between her and one of her male "subjects."
The book can be ordered here from amazon.com

An Excerpt
In the internet magazine Urban Desires, you can find an excerpt from the book that has a diagram of the Patpong area and pictures of some of the prostitutes.
Watch Cleo explain, in RealVideo, her adventures while studying Patpong:
part one (27 minutes).

part two (24 minutes).
Review of PATPONG SISTERS.
Back to Cleo's main page