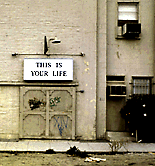 Auditioners for the Potato Eaters wear frowns grown in the night. This is the Salon de Refusé--a place of little option. The glass in the welcome mat is the front door. Kicked now, the kicker draws splinters instead of blood. Few guests are depressed enough to slit their wrists with plywood. It troubles me to let you read these things. When you lose your mind, a new one takes its place; but once you've started writing, you're stuck. History creates history. Every version creates another. If you have a different perspective on these events, enter at will.
An incinerator feeds the exhausted sky. The air is trapped and stale. It glitters with silt disguised as snow. The entire neighborhood is grey, with one exception: the Blue Motel is the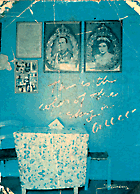 color Greeks wash over doors to ward off the evil eye. Three shoe boxes bogged in black asphalt could have been the architect's inspiration. The figure of what must be a man paces along the Cyclone fence circling a parking lot as soft as pancake batter under rigid tires. When I drive in, a muscleman lifts the rear end of my VW and shakes it. He demands drugs to make his cock bigger. I hope I am not given that authority. It wasn't in the job description. A nervous charcoal bomb shelter. Wads of rolling papers. Fidgeting fingers. Shrill voices draw echoing shadows into the hall. Where's the office, I ask the one with teeth like toenails. He gums a wooden match and tugs baggy tuxedo trousers with his elbows like Jimmy Cagney. His fingers are foreskins. His scalp is blue. Everyone's gone to Joker's Wild with Jesus.

---