---
The cue ball has been replaced with a stone. Another guest has reported a rubber horseshoe torn in half. Security stares blankly behind the sunshield through the meshed windows into the swimming pool--the world through Genie's veil. At a party down the block last weekend Henry Fonda asked for something harder than wine and I handed him a stone. Stone cueball, torn horseshoe. Security puts it all together and it don't add up. Dudley asks, Whoever said it would? He wants to go for a swim, but the pool is locked. I wouldn't do that, Mister, Security cautions. You'll wake the lifeguard and he gets mean when he's gotta swim.
Oreste Miandros wears the same cowboy hat he felt good in as a boy. His wardrobe is black and blue.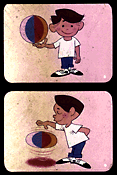 The belt is 9 inches too long and dangles like the tongue of a lost dog on a hot road. Oreste holds a hand over his mouth, leaning into my ear. In Greek he confides that he used to pee in bed. But he never peed in the pool. So his mother made him sleep in the pool. He has been shooting horse (the basketball game, not the drug.) A sloth spins with the grace of a geriatric ballerina. Over the fence the ball sails and plops in the pool. Beat that shot, Old Sock. Security feigns shrewdness. He winks at me. I'll bet Oreste's the guy who's throwing balls in the pool. Oreste asks me to drum up some applause. It wouldn't be easy. All the guests are occupied.

---