---
I didn't kill Chester Godfrey, but I didn't stop his murderers from doing the job for me. There can be no doubt about their defense--nor mine, which is why I helped Dudley kidnap Marilyn. He danced between tombstones and palm trees and prayed he hadn't hurt the night watchman when he tied his hands. The moon was full, but the crypts were still in its shadow when we began. Every rubber mallet blow was lurking in the hallways of our bedrooms every night. Rosebuds strewn in narrowing lunar shadows. He opened the crypt above and we lugged the coffin to the lip. Lighter than expected. And we heaved her three feet higher than she'd been in years, finally resting easy. Dudley sealed the crypt he coveted and tucked a ransom note in Marilyn's bud vase.
The cemetery quietly caught the kidnapper, and Dudley's dream came true. He had just paid for the crypt above when the private eye glared at the rosebud in his lapel. Dudley glanced at Marilyn's bud vase, counted five and bolted. Everything they say on TV is the truth. The private eye grabbed a loose arm and heard a melon split by a falling brick as roses flew in shock.
Talking to God is like stepping into your dreams and playing with your old toys. Once you get used to being scared you don't have to worry anymore. The last time I visited Dudley's shrine it was bricked over and painted out. No evidence remains that this has been the sight of a major archaeological event.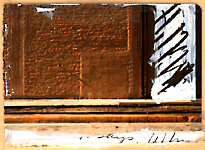 ---