---
In unseasonable heat and dead air the guests stare out of the corners of their eyes. No world exists beyond the hurricane fence. An anonymous bobo paces like a lobotomized lion who has forgotten what jungle lies beyond. Mosaic faces in cracked windows. A balcony spans the second floor overlooking a central compound, a devastated courtyard, an activated minefield. Broken chunks like earth rise like Lebanese sidewalks, but no trees grow at the Blue Motel. Through a cracked door I see a naked man lying on an unmade bed. He must be starving. In the adjacent bathroom another man stands with his erect penis draped over the sink as he sings to the mirror. Both men are gray and sport crew cuts to match the stubble on their chins. The stiff one sings Are You Ready for Love. Oh, I'm ready for love, the other echoes, not batting an eye or moving a muscle. Loud pounding on the walls accompanies an angry scream: Stop singing, you animals! My twins are trying to paint!
The room, like all rooms at the Blue Motel, is a stubby rectangle with encrusted linoleum floors. It would serve an Emile Zola character well.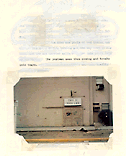 Blank and sallow walls boast one 4 x 4 window feathered with fractures and framed in weathered aluminum. The prismatic effects of broken glass are the only features that recommend the view. The new guest says concrete poets have made his shrine more specific--spray painting his sentiments on the doors beneath the sign. He can tell you where Van Gogh got the gun, and he knows why Modigliani threw his shoes in the Seine, but he can't tell you if he ever owned a gun himself or what style shoes he wore before the war in Viet Nam. All he seems to know for sure is what his doctors tell him, and that's not much. He has scoured the floor. What lurked in those pockmarks made him queasy. The bathtub harbored a fleet of pubic hairs that shared profiles with O'Gatty's Groucho nose.

---