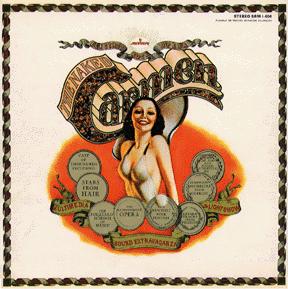 The Naked Carmen

Describing itself as "Electric Rock Opera" and "Multimedia Sound Extravaganza" and "Light Show", this remarkable recording was released in the summer of 1970 for Mercury Records (Mercury SRM I-604).
The Naked Carmen was originally conceived by John Corigliano and myself as a way to update the most popular opera of our time. Mercury wanted the Classical and Popular divisions to work together and after a meeting with Joe Bott, Scott Mampe and Bob Reno it was decided to proceed with the project. What I'm saying is that it was a collective decision.
-- recent communication from David A. Hess
John Corigliano has gone on to other things like the soundtrack to "Altered States (1980)" and the opera "The Ghosts of Versailles", which was commissioned by the Metropolitan Opera to celebrate their centennial in 1991, his "Symphony No. 1 (1990)" which is a meditation on AIDS, and his newly completed "A Dylan Thomas Trilogy (1998)". As the composer of "The Red Violin" (1999), he won the Academy Award in 2000 for Best Original Film Score. He was also the winner of a 2001 Pulitzer Prize! Keep up with his latest doings via G. Schirmer Music and similar sites.

David Hess wrote and performed in the 70s' cult film The Last House On The Left. You can find out more about him at his personal website, http://www.davidhess.com.

If any of you out there have copies of Corigliano's earlier recording Pure Buckwheat Honey or David Hess and Malachy McCourt's And The Children Toll The Passing Of The Day, please contact me at jhhl-at-panix.com!

Here are the track listings and some of the extensive liner notes etc. taken from the multimedia bound-in documentation and activity pages.

Side A:
11:50 BAND I

ODYSSEY(Prelude)

Moog Synthesizer, Detroit Symphony Orchestra/Paul Paray.

THE FACES ARE THE SAME, I (Entr'Act)

David Hess

WHEN LOVE IS FREE (Habenera)

Melba Moore

5:33 BAND II

FACES ARE THE SAME, II (Entr'Act)

David Hess

THE FLOWERIE SONG (The Flower Song)

Robert White and Anita Darian

THE UNIVERSAL MILITARY BUBBLEGUM BAND (The Children's Chorus)

Darian, kazoo; Pig Iron; Detroit Symphony Orchestra/Paul Paray

8:55 BAND III

FACES ARE THE SAME, III (Entr'Act)

David Hess

PLAYIN' THE GAME (Toreador Song)

William Walker

TIME (Michaela's Aria)

Melba Moore
Side B:
BAND I 8:28

PAPER HERO and THE DARKNESS (March of the Toreadors)

Pig Iron; Detroit Symphony Orchestra/Paul Paray

SOMEWHERE TO GO (Seguidilla)

George Turner

BAND II 6:29

FACES ARE THE SAME, IV (Entr'Act)

David Hess

THIS SICK AND HUNGRY WORLD (The Gypsy Song)

Mary Bruce and her Starbuds

CARMEN FANTASETTE (Bizet-Atkins) RECORDED LIVE!!

John Atkins, piano

BAND III 11:00

THE TAROT DEALER (The Card Song)

Melba Moore

REQUIEM (Montage)

THE FACES ARE THE SAME, V (Entr'Act)

David Hess
THE NAKED CARMEN CREATED, WRITTEN, PRODUCED, AND ARRANGED BY JOHN CORIGLIANO AND DAVID A. HESS,
ADAPTED FROM BIZET'S "CARMEN."

SYMPHONIC EXCERPTS FROM THE CARMEN SUITE BY GEORGES BIZET PERFORMED BY THE DETROIT SYMPHONY ORCHESTRA/PAUL PARAY, CONDUCTOR.
ORCHESTRATED AND CONDUCTED BY JOHN CORIGLIANO

Vocals for Melba Moore produced by Jim Fragale.
---
Carmen in the 1870's
Parallels between Carmen and today's new breed of gypsy - both outcasts of society because of their insistence on living lives of individual freedom - are clearly drawn.
In this modern version of the opera written by Georges Bizet, the traditional vision of Carmen as temptress is rejected. Today, she is a heroine.
In the last 10 years, Carmen has emerged as a compelling spokesman, not only for the concept of women's liberation, but for the whole prospect of an exciting life of free morality; a life in which new concepts of human purpose and tolerance will permit man to refashion his institutions to permit the full development of every individual.
Carmen is faithful only to her own feelings. Her insistence on self-honesty in love causes her to destroy the solid, established life and values of the soldier, Don Jose. In distraction, he destroys her.
The story of Bizet's four-act opera, set in 1820 Seville, follows:
ACT I opens on a plaza near the cigarette factory where Carmen and the other female workers appear. She meets Don Jose, a corporal in the army, and sings "love is a gypsy which knows no law." The infatuated soldier helps Carmen escape after she is arrested for fighting. For this, Don Jose himself is imprisoned. Don Jose's village sweetheart, Micaela, comes to Seville to pledge her troth and bring him news of his mother. Don Jose dreams only of Carmen.
ACT II shows Don Jose, now free, meeting Carmen in a tavern frequented by smugglers, soldiers, and the handsome bullfighter, Escamillo. After fighting with his superior officer who also comes to court Carmen, Don Jose and Carmen flee to the mountains and the carefree, gypsy life.
ACT III reveals the smuggler's mountain hideaway. Carmen has tired of Don Jose and dreams of Escamillo. Don Jose, lamenting his loss of honor, fights Escamillo who comes to see Carmen. The gypsies save the torero and he invites them to his next bullfight.
ACT IV opens on the plaza outside the bullring. Carmen, on Escamillo's arm, is warned that the jealous Don Jose lurks nearby. He begs Carmen to flee with him but she proclaims her love for Escamillo and throws Don Jose's ring at his feet. He then draws a dagger and stabs her, sobbing "I killed her, Carmen! Carmen my adored!"
This modern version of Bizet's masterpiece, updated with rock and roll, rhythm and blues and spiritual orchestration, carries contemporary lyrics. Retaining the urgency and emotional shorthand of operatic expression, the work truly meets the definition of poetry: it says something familiar in an unfamiliar way.
We have all sensed that Carmen's real message was somehow lost in traditional interpretations which saw Don Jose as the central tragic figure.
Suddenly, Carmen is seen, not as a tragic opera, but as a dramatic confirmation that there is, indeed, more than one way to live.
---
Carmen in the 1970's
Carmen in the 1970's as created and produced by John Corigliano and David Hess.
By the time Georges Bizet had made Prosper Mérimée's "Carmen" over, she was a beautiful and fascinating image of immorality. In an age when a woman's naked ankle was considered an affront to decency, the free-loving and sensual Carmen became the symbol for many of the repressed dreams and desires of the 1870's.
The time is now 1970, and still not many of us will admit that 1870 is alive and well and the "faces are the same." But somewhere apart from the "silent majority," there are a few who try to cope with the sameness in our society. they are not prophets or seers. They are honest, as Carmen was honest, and have chosen her to be their spokesman.
Carmen was real in 1870. She was a gypsy girl and she worked in a cigarette factory. The ODYSSEY transports her to the 1970's where she finds that the FACES ARE THE SAME. A guitarist in a Spanish square plays and a contemporary Carmen sings as she did once before - WHEN LOVE IS FREE, Love's for me.
She is found by the soldier Don Jose, a cardboard figure whose conventional love becomes a destructive possessiveness. He declares everything in a Grand Passionate FLOWURIE SONG, but it still comes out sounding like an old record. A fanfare announces Don Jose's regiment, but the military precision is upstaged by the wild antics of the children - the UNIVERSAL MILITARY BUBBLEGUM BAND.
The Troubador returns to set the scene for Carmen's new Hero, Escamillo. The brash Toreador interrupts the Troubador to tell Carmen and anyone else who will listen about PLAYIN' THE GAME. The Rule: I can have you, you, you and you; and you all can have me. Enter Micaela. Stripped of her 19th century trappings - simpering sweetness and purity - she emerges as a TIME - demanding woman who suffocates with her love.
PAPER HERO AND THE DARKNESS: The Toreador leads mesmerized throngs into the violence of the bullring to witness a cruel and meaningless spectacle. The carnival atmosphere surrounding the murder of an innocent creature can be heard as the band marches around the arena and through time. And the heroes of yesterday become today's fools. Aren't we lucky to have SOMEWHERE TO GO?
Carmen tries again, this time on the concert stage. But she does not belong here for her song is free and cannot be contained by the halls of conventionality. the Hero this time is the concert pianist who is greeted with wild acclaim when he appears to perform his CARMEN FANTASETTE. He could do anything - if he could only remember her song .. So much for Heroes.
The sweep of the stars, the forest as it breathes, the seacoast, an early sunrise, the Shrine of Sara - maybe the TAROT DEALER has the answer.
Carmen is hounded by familiar faces. They close in on her with their distorted views of love. But Carmen, a free spirit, cannot find herself in their images. Surrounded, smothered, she sings her own REQUIEM.
That's how it is, that's how it will be, and how it must have been.
---
Dedicated to Joe Bott
without whose ideas, understanding and encouragement
The Naked Carmen would have remained clothed.
The Birth of a Recording Concept
Early in 1968. two executives left Paris together after attending meetings on the current status and development of the classical record industry. These two men happened to be Irwin Steinberg, President of Mercury Records and Joseph Bott, Director of the Classical Division of Mercury. In the trip back to the States, their conversation led to the birth of what you are now hearing: a record from all worlds of music.
After much thought and discussion, the 19th century romantic opera Carmen was chosen as the vehicle for the project. the reasons were manifold, but most important Carmen was known by more people than any other classical work. It was extremely adaptable in story and music, and it had universality.
The whole idea lay dormant for several months until Joe Bott went to San Antonio in May 1969, to supervise the recording of John Corigliano's Concerto for Piano and Orchestra. In the inevitable hours of music discussion that surround recording sessions, the young classical composer, Corigliano, who had recently been involved in pop arranging an recording sessions, was drawn into the project, to the point where he returned to New York in July and submitted an outline to Joe Bott. After that, there was never again a doubt that Carmen would join the '70's.
There was one problem, however. Where to find a talented "pop" writer who knew classical music? Enter ... David Hess. A young writer-producer for Mercury-Record, David became the catalyst for the project. With all elements finally present, Carmen could become a reality. the opera was restructured musically and lyrically, the two composer-writers drawing from every available corner of their combined musical experiences.
Carmen soon became a mass of lyric sheets, orchestral arrangements, lead sheets, half-recorded tapes, rough mixes and frazzled nerves. Then, one by one musicians form all over were added: Melba Moore from Hair and Purlie, Bill Walker from the Metropolitan Opera, George Turner from Hair and Salvation, Bob White from the NBC Opera Company, Anita Darian from The American Opera Center, John Atkins, concert pianist, some of the top studio musicians in New York, Paul Paray and the Detroit Symphony Orchestra, Mary Bruce and Her Starbuds, a children's tap dance group, and David Hess, from the Newport and Valley Forge Folk Festivals.
An unusual combination? Everyone thought so, but then it was an unusual idea ... Carmen in the '70's. But that's what happens when two executives spend several hours on a plane from Paris to New York.
-- M.Scott Mampe
---
Performers
David Hess

Sometimes coming from the swimming pools of suburbia doesn't mold that Establishment oriented picture of happiness and success - that adjusted sociale animale. It begets an outpouring of hostilities aimed at the very heart of the status quo. It also breeds eccentrics - if you love your parents. David is an outpouring eccentric.

Educated at Columbia University where he majored in Anthropology he got interested in all things pertaining to life, both living and and dead. He came to song writing by the way of entertaining and to entertaining by a gigantic push from his mother towards an operatic career - which he managed to side-step.

He put aside his feeble attempts at singing to study composition at Julliard with Vincent Persichetti - which left him all the more confused. Turning to song writing he became successful at a very early age having such hits to his credit as I Got Stung by Elvis Presley, Start Moving, buy Sal Mineo, and Speedy Gonzales by Pat Boone to mention a very few.

His songs reflect the mood and yearning of his own self as well as the young people of today. He has expressed this ideology in his first major recording performed by Malachy McCourt for Mercury - And The Children Toll The Passing Of The Day(SR 61258)

Anita Darian

"Where do you find a kazoo virtuoso who also sings pop and classical?" David and I pondered the problem until I remembered a CBS-TV show I saw several years ago where Leonard Bernstein conducted a performance of Mark Bucci's Kazoo Concerto with Anita Darian in the solo part.

I called her and asked her if she still blew kazoo. She did. And she sang - classical with the New York City Opera and pop with the Sauter-Finnegan Orchestra. A natural for The Naked Carmen.

Anita's credits include leads in musicals like the Flower Drum Song,Showboat,and The King And I at the New York City Center (on the recommendation of Richard Rodgers), and opera performances in Tosca,Traviata and - most recently, a performance of Beethoven's Fidelio with the New York Philharmonic on CBS-TV.

John Atkins

David just happened to have a Texas newspaper which advertised a performance of my Piano Concerto and when I saw it, I flew to Texas to catch the show. A good thing, because audience, press and I felt that the soloist, John Atkins, was really fantastic. so when we decided to include a Carmen Fantasette in our Total Carmen, I thought of his amazing virtuosity and knew that he would personify the Great Pianist

John made his Philharmonic Hall debut in 1965 with the Shostakovich First Piano Concerto under Thomas Dunn's direction. He subsequently toured with the work and played it on network television. Not only does he perform as a soloist (he's really into contemporary music), but he plays a lot of chamber music with people like Montserrat Caballé, and Luigi Dallapicola. Not long ago John premiered Lee Hoiby's Piano Concerto in Philharmonic Hall, then went to Warsaw to record it under a grant from the National Academy of Arts and Letters.

George Turner

"Hello, my name is George Turner, and Bernie Gersten sent me." "Who's Bernie Gersten" - "John, who's Bernie Gersten?" "He's the assistant producer of the New York Shakespeare Festival, that's who!" "Who's that?" "That's George Turner, and Bernie Gersten sent him."

So we raced George into the studio with little over an hour of time left, and Chicago screaming for a finished product. And it worked - Somewhere To Go really went. So well, in fact, that we are in the process of planning an album with him.

George, incidentally, has had major roles in Hair and Salvation and was the lead in the off-Broadway production of Sambo.

John Corigliano

Born in 1938 in a little town in Brooklyn, John had two musical parents - "Dizzy-fingers Rose," his concert pianist mother, and "Fiddlin' John," his concert-master father - who was the revered First Violinist of the New York Philharmonic for over thirty-five years.

In this cloister of classical music, John grew up - went to Columbia University studying music (of course) - and ended up writing a host of symphonic pieces, getting performances by groups like the Philadelphia Orchestra, Chicago Symphony, San Fransisco Symphony and the like. He won lots of awards, including a Guggenheim Fellowship, and got important commissions - like his new one from Lincoln Center for a chamber piece and one from the San Antonio Symphony for a Piano Concerto to open the HemisFair '68. G. Schirmer publishes all his classical music. Two of these works exist on records - the Violin and Piano Sonata, which won first prize in the Spoleto Festival Chamber Music Competition, and Mercury's new release of his virtuoso Piano Concerto, with Hilde Somer and the San Antonio Symphony under Victor Alessandro (Mercury SR90517).

But enough about that. He always dug the other music, working on the Moog Synthesizer before people knew there was such a thing (he spent 6 months in the hospital in mid 1969 due to a severe over exposure to square waves), and writing and arranging for his contemporaries. A new LP Pure Buckwheat Honey and The Naked Carmen are his most recent efforts along with tons of other projects he's involved in . His classical background and his love and understanding of the other world find a perfect subject in The Naked Carmen.

Melba Moore

John and I were sitting in Joe Bott's office (mercury Records Classical Music A & R director) when his secretary Missy, with her usual impishness, walked in and announced, "I just heard a great singer, she's just right for Carmen, and if you don't use her , you're crazy - oops! I'm sorry, did I interrupt someone?" She proceeded to turn beet-red, and blurt out the name, Melba Moore. We looked at each other and said, "That's a great idea, let's get her album and see if she's right." She was perfect.

It has been suggested that Melba Moore is a black Barbra Streisand, a new Broadway superstar and a good-looking girl with a touch of Billie Holiday in her voice.

Born into a show business family in the Harlem slums, Melba earned a bachelor's degree in music education at Montclair State Teacher's College and taught music in Newark during 1964 and 1965. Melba held the female lead in the Broadway musical Hair for eighteen months - the first black person to have the role - and she opened as star of the Broadway show Purlie to rave reviews from all quarters - she subsequently won a Tony Award for her performance as Lutibelle. Leonard Probst, WNBC-TV's resident drama critic, said of Melba:"The great star of the show is a young girl named Melba Moore. Almost every time she sang the show stopped." The New York Times, the New York Post, and United Press International were equally ecstatic. Melba's first album,Living to Give (SR 61225) was released by Mercury almost simultaneously with the opening of Purlie.

Mary Bruce and Her Starbuds

"Mary Bruce and Her Starbuds?" "What do you think, John?" "The name at the very least deserves to be seen in print." And with that we took off to 125th Street and Lenox Avenue to Mary's studio with a freshly cut disc of the track on the Gypsy Song. As soon as we met Mary Bruce, we knew we hadn't mad the trip for nothing.

Two weeks later, she was in the studio with several dozen of Starbuds ranging in age from three to eighteen doing what she had invented more than a quarter century ago - Stop Time. For Mary Bruce is no newcomer to show business.

Michael Todd discovered Mary when she was dance director of the Apollo Theatre, and named her group "The Starbuds". He took the group to Broadway for his musical Gay New Orleans and since then there have been hundreds of Starbuds, including Josephine Premice, Wally Cox, and Ruby Dee.

William Walker

John and I decided to take a break from the routine. So I went to my parents for dinner. My mother having sung Carmen, asked to hear some of the new score. As soon as she heard the Toreador Song, she said she had just the person to do it, and William Walker entered the Naked Carmen

Bill made his Metropolitan debut in 1962. He has since sung roles there and on the company's national tours ranging from Papageno in Mozart's Magic Flute, to Prince Yeletsky in Tchaikovsky's Queen of Spades. On Broadway he starred as Lucille Ball's leading man in Wildcat, and has appeared in summer stock in Carousel,Damn Yankees, and Showboat.

William Walker has been much in demand on TV's most popular talk shows, appearing frequently with Merv Griffin, Johnny Carson and Mike Douglas.

Robert White

"Did you know Eilean White's father was radio's Silver Masked Tenor?" asked David (who used to date her). "No, but I know her brother Robert." "Oh, can he sing like his father?" Robert White began singing at the age of five on radio shows including Coast to Coast on a Bus on the Fred Allen Show. He progressed into the symphonic world where he snag opera (NBC's opera production of Menotti's Labyrinth and Boris Godunov) Oratorio (with Bernstein and the Philharmonic) and concert work (he sings with the New York Chamber Soloists). He has recorded extensively in this symphonic voice - but when he wants to, he can sing like his father.
---
How to make your Naked Carmen Electric Spanish Cigar-Box Guitar, Light Show, and Sound Sculpture
Notch closed album with blunt side of table knife on left and right edges as indicated. Space thumbtacks evenly and align with notches.
Pierce tube from empty toilet paper roll with manicure scissors decoratively, and position as shown inside album.
Insert small colored light bulb into tube and plug into any convenient electrical outlet.
Stretch rubber bands around in notched.
To tune, wind rubber bands around thumb tacks until desired pitch is reached. Be careful not to snap rubber.
Play your Naked Carmen Electric Spanish Cigar-Box Guitar Light Show and Sound Sculpture in a dark room for best results.
Buenos Notches.
---
[Back to the main page]
Henry Lowengard, jhhl-at-panix.com /324 Wall St. Apt 5 / Kingston NY 12401/


---

© 2022 Henry Lowengard