The Story of Sunshine and Moonshine
Early Easter Sunday morning, when it was still dark, I woke up. And on a pillow was a basket. I couldn't get up because I was very tired. And I just managed to get up and I looked in the Easter basket. I saw candy and the candy was chocolate eggs and a big chocolate bunny, but there was one soft toy that was a bunny. I named him Sunshine, because I got him when I saw the sun come up and I also drew a picture of the sun coming up.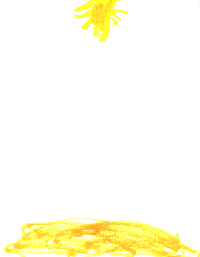 Sunshine's best friend is named Moonshine. She is a bear that my mom got for Mother's Day, but she gave her to me. I picked the name Moonshine. My grandma took a picture of Sunshine and Moonshine.