ADVANCE PRAISE FOR "THE PIRATE HUNTER" (Hyperion/Theia, June release) by Richard Zacks
"THE PIRATE HUNTER is not just a delightfully wry biography of William Kidd. It is also a dizzying tour of a vanished 17th century world whose ports of call range from the pig-infested streets of Dutch New York to the lemur-haunted forests of Madagascar, from the palaces of the lords and moghuls to the horrid confines of Newgate Prison. Brimming with authority, eccentricity and grisly detail, it is everything a pirate book should be."—Stephen Harrigan, author of "The Gates of the Alamo"
"Richard Zacks does for pirates and adventurers what David McCullough does for presidents. This is master work of research and gripping storytelling. THE PIRATE HUNTER is hugely entertaining, breathtaking in its detail and epic sweep. This is an amazing tale, told with both humor and mythic gravity."—Doug Stanton, author of the best-seller, "In Harm's Way".
"Forget all those swashbuckling movies. This is the real piracy: a harrowing tale of deceit, danger, greed and lust. Richard Zacks breathes new life into the legend of Captain Kidd."—Lynn Sherr, ABC News
"For Richard Zacks, history is no stately parade of fact and theory. It's a raucous, pungent romp through greed, corruption and excess. Who was the real pirate—Captain Kidd, or the rogues from Whitehall Palace who betrayed him? In THE PIRATE HUNTER, truth is not only stranger than fiction, it's a lot more fun to read."—Geraldine Brooks, author of "Year of Wonders"
"In a world where peace could turn to war in an instant, where a captain's own ship and crew often were his worst enemies and where pirates and pirate hunters were almost indistinguishable, a great yarn emerges out of unlikely truth, deliberate betrayals and grand misunderstandings. THE PIRATE HUNTER is that yarn, a true to life sea shanty that rings far louder than fiction ever could."—Sherry Sontag, co-author of "Blind Man's Bluff"
"Here, at long last, is the Kidd story rendered for adults. Zacks has scrubbed off the brine and given us a revealing peek beyond the skull and crossbones. From this absorbing work we learn all over again that myths are never as interesting as the real stories upon which they're based. –Hampton Sides, author of best-selling "Ghost Soldiers"
"THE PIRATE HUNTER is an exotic, high-octane thriller which brilliantly retells the surreal escapades of Captain Kidd and Robert Culliford. Seldom is history this fun to read. Hollywood will be knocking on Richard Zacks' door." --Douglas Brinkley, Director of the Eisenhower Center for American Studies at the University of New Orleans
"Three hundred years ago, pirates were the terrorists of their day - hijacking ships, stealing their cargo, and often killing their crews. Secretly appointed by the King of England to track down and bring to justice these violent outlaws was Captain William Kidd, a New Yorker living on Wall Street. In Richard Zacks' fascinating new book, THE PIRATE HUNTER, the reader ships out with Captain Kidd as he sails the world in search of these seagoing bandits - only to wind up the most hunted pirate of all! Zacks' richly detailed nautical thriller, the product of enormous research stretching from the U.S. to Europe to Africa, combines exciting escapism with thought-provoking history." --James Bamford, Best-selling author of The Puzzle Palace and Body of Secrets and distinguished visiting professor, Goldman School of Public Policy, University of California at Berkeley

"Much more than the story of the swashbuckling -- and seriously misunderstood -- Captain Kidd, THE PIRATE HUNTER offers a fascinating glimpse into the lives of ordinary seaman -- what they ate, how they relieved themselves, their pleasures and the ghastly punishments they endured. Read it for the history or read it for the adventure -- you won't be able to stop."—Barbara Ehrenreich, author of "Nickel and Dimed—On (Not) Getting By in America"


"More than a swashbuckler's yarn, THE PIRATE HUNTER is a buccaneer history for moderns -- with vivid personalities, thick description, and the debauchery left in. Richard Zacks artfully leads the reader through the courtrooms, bedrooms, and staterooms of 17th-century villainy, switching all the while between gravitas and wit."—Edward Ball, author of "Slaves in the Family" and winner of the National Book Award

"The real story of Captain Kidd turns out to be a historical thriller even more riveting than the legend. Richard Zacks has given us a mesmerizing portrait of shipboard life in the heyday of the pirates who lived "a merry life, and short." This forgotten yarn counts among the most fascinating epics in American history."--Robert F. Kennedy, Jr., lawyer specializing in environmental issues
"THE PIRATE HUNTER offers readers a rare sense of visiting a distant past—from the stench of Newgate Prison to the brine and gunpowder of the high seas, we are there! Richard Zacks takes his readers on a wild ride, filled with enticing and documented detail. His story of Captain Kidd covers the seven deadly sins, nearly as many seas, and introduces dozens of intriguing characters along the way: from the buccaneers of seventeenth century Wall Street to Caribbean cutthroats, from betel-chomping red-teeth African-Malagasy natives to London's elite who frequent the Kit Kat Club. From its opening page where we learn a sailor's identifiable genital markings slate him for the gallows, we know we are in for a riveting and offbeat historical adventure."—Catherine Clinton, Gilder Lehrman Center for the Study of Slavery, Yale University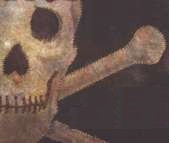 Press cover to return to opening screen, or hit the Back Button