The Wall Street Journal on May 24, 2002 picked "The Pirate Hunter" for its summer reading list; Elizabeth Taylor of the Chicago Tribune on NPR picked it for her top pick in non-fiction for the summer.
PUBLISHER'S WEEKLY—MAY 6, 2002
THE PIRATE HUNTER: The True Story of Captain Kidd Richard Zacks. Hyperion/Theia, $25.95 (432p) ISBN 0-7868-6533-4
[starred review]
"Entertaining, richly detailed and authoritatively narrated, Zacks's account of the life of legendary seaman William Kidd delivers a first-rate story. Though Kidd, better known as Captain Kidd, was inextricably bound with piracy and has popularly gone down as a marauding buccaneer himself, Zacks (An Underground Education) argues that he was actually a mercenary backed by the English government and several New World investors to track down pirates and reclaim their stolen wares. The book is cogent and replete with supporting evidence without the heavy-handed feel of some scholarly work. What really sets the book apart is Zacks's gift as researcher and storyteller. He highlights the role of an undeniable pirate, Robert Culliford, in Kidd's tale and pits the two men against each other from the outset, constructing his book as an intriguing duel. Aside from the tightly constructed plot, Zacks also wonderfully evokes the social and political life of the 17th century at land and at sea, and he takes turns at debunking and validating pirate folklore: while it appears the dead giveaway of a skull and crossbones made it a rare flag choice, Zacks contends that pirates did often wear extravagant clothing and were as "drunk, cursing, hungry, horny... and violent" as myth would have them. Augmented by such details and driven by a conflict between Kidd and Culliford that keeps the pages flying, Zacks's book is a treasure, indeed." (June)
*********
KIRKUS REVIEWS—APRIL 1, 2002
Zacks, Richard
THE PIRATE HUNTER: The True Story of Captain Kidd
Theia/Hyperion (432 pp.) $25.95 Jun. 2OO2
ISBN: 0-7868-6533-4
"A dashingly narrated life of Captain William Kidd, freeing him of his unwarranted reputation as a notorious pirate.
Kidd was no pirate, historian Zacks (History Laid Bare, not reviewed, etc.) argues in this solidly documented historical thriller, but a New York sea captain with a house, wife, and child on Wall Street, and with a special commission from King William III and other notables to hunt pirates and divvy up the booty with his backers. This was an exceptional charge, since it allowed Kidd to circumvent the Admiralty court. But it was also a secret commission, and his actions won him few friends in the Royal Navy, which frowned on privateers of any stripe, or with the East India Company, which suffered as a result of his work.
Recreating in great detail Kidd's months searching for bounty, yet doing so with a verve that keeps the story light on its feet, Zacks also sets straight the life of the pirates--violent and short, certainly, but far more democratic than that experienced by those on land. It was Kidd's ill luck to take a glorious treasure from a Moslem vessel, throwing the East India Company's best-laid plans in India into a precarious position. The captain was left out on a limb, and his backers quickly disavowed any knowledge or his commission, for treason was the charge here. Zacks reveals the doublecross through a paper trail of logbooks, diaries, letters, and transcripts of the trial that sent Kidd to the gallows while his erstwhile pirate nemesis, Robert Cul1iford, walked free from Newgate Prison. In addition, Zacks paints a real-life picture of the pirates' port of choice in the 1690s--New York City--its customs, the fluid politics that pertained to maritime affairs, and even what it was like to attend a hanging.
Exciting, well told, and befitting the wild life of a pirate--even if Kidd wasn't one."
***************************************
04/15 2002
BOOKLIST
Zacks, Richard. The Pirate Hunter: The True Story of Captain Kidd. June 2002. 432p.
Hyperion/Theia, $25.95 (0-7868-6533-4).359.2.
"We all know Captain Kidd, the bloodthirsty pirate who murdered and plundered his way across the seven seas, sailing under the skull and crossbones. Well, it turns out that pretty much everything we know about Kidd is wrong. He wasn't a pirate; he was a privateer, commissioned by the British government to hunt pirates. He wasn't ruthless; as a matter of fact, he was a family man, with a wife and daughter waiting back home, which wasn't some decrepit shanty but a well-appointed house on New York's Wall Street. This surprising, eye-opening book completely changes Our perception of Captain William Kidd, a nice Scottish fellow who would be quite shocked to learn what we think of him these days. It also introduces us to a genuinely ruthless pirate, Robert Culliford, who was to bring much calamity to Kidd's life. Zacks fills our minds with the sights, sounds, and even the smells of the seventeenth century, and he rescues William Kidd from eternal damnation. A lively, educational, thoroughly spellbinding trip back in time." -David Pitt
YA/L: For the true pirate history and the adventure. HR.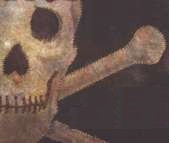 Press cover to return to opening screen, or hit the Back Button