DOUBLE YOUR PLEASURE? DOUBLE YOUR FUN?
Juan Battista de los Santos lived around the time of Civil War. He had two penises. Two large penises. His doctors said he was a very cheerful man. He could have simultaneous orgasms with two partners (that's four orgasms). And afterwards, he could smoke a cigarette and pee to the left and the right.
(In the late 1860's, a team of French medical researchers photographed de los Santos for their new journal. )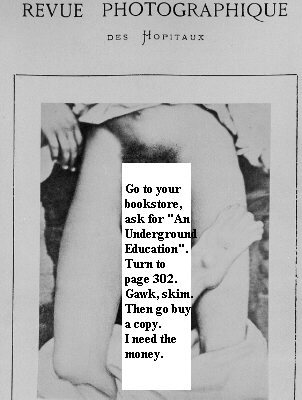 Sorry to be coy with the photo but I need to hoist you out of comfy chairs and get you into the bookstore to pick up a copy.

I'm your jaded type and this photo floored me. Go see it.
---
Hit your "Back" button to return to the last choice list, or...

press the cover to return to the opening screen.