PEERING OVER THE SHOULDER OF ANCIENT GYNECOLOGISTS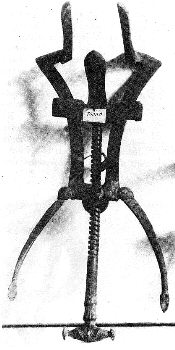 This corkscrew-like device was found at the ruins of Pompeii. Basically, here's how it worked. When it's shut, the three prongs seen above are clustered together tightly and form a unified tip of about a thumb's thickness. This is oiled and inserted into the vagina and then the screw is turned, spreading the three prongs, and allowing (the doctor) a fine view.
---
Hit your "Back" button to return to the previous list of choices or
...press the cover to return to the opening screen.