ISBN 156201059X, by Cleo Odzer, Ph.D.
GOA FREAKS: MY HIPPIE YEARS IN INDIA is a non-fiction book about a drug-smuggling hippie community in India where Cleo spent six years. If sex is the basis of Patpong Sisters, the basis of Goa Freaks is drugs.
GOA FREAKS can be ordered from amazon.com

If amazon says it's out of stock (it's not) try the publisher FoxRock
If all else fails, call the publisher Barney Rosset at (212) 505-6880. (He has lots of them right in his office)
GOA FREAKS has been reprinted in India in November, 2000. Available in Goa only.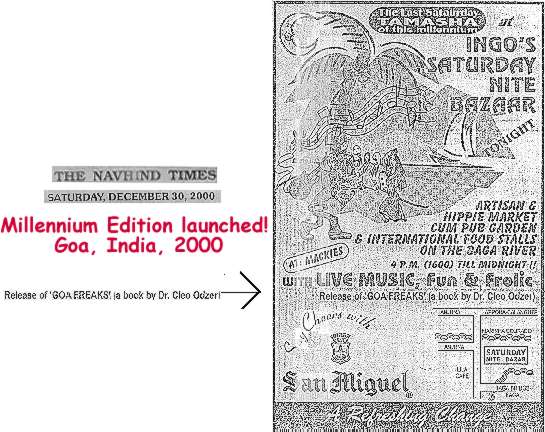 To experience Goa, visit Anjuna Beach on the MOO. You can meet Neal who turns people on to free drugs. From there, you can also enter Anjuna Drugoona Saloona and join the crowd sniffing cocaine. Or go to Poona and become enlightened, as Cleo did when she became Ma Prem Madhumaya.
Review of GOA FREAKS.
---
back to Cleo's main page