Cleo Odzer's TV Shows

on Manhattan Neighborhood Network
public access TV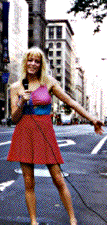 ---
I am encoding some of my shows in RealVideo so they can be seen from the web, thanks to www.freespeech.org!
Cleo's one and a half minute hello to 1999, with the show's Musical Intro

---
This is my first not-perfect RealVideo, a 3.5 minute Introduction

with a thank you to MNN and freespeeech.org.
---
(13 minutes) From 1996 My Photo Albums 1

(first half) and (11 minutes) My Photo Albums, 1

(second half).
---
And here's a whole 27 minutes show (I cut out video of the Amazon that didn't encode well in RealVideo because of too much movement): My Photo Albums 2

---
This one is called My Photo Albums 4 OR The Express Studio

(26 minutes) It was made before 3 as I was learning how to use MNN's Express Studio.
---
Next comes My Photo Albums 3.(26 minutes)
---
These two are too red -- though that may be fitting for a show about a red-light district. Content is racy. Studying Patpong

part one (27 minutes) and

part two (24 minutes)
---
And here's a special one: Interviewing Stacy Horn

(26 minutes)
---
Best yet -- Cleo's Adventures

"As A Groupie" This 41 minute RealVideo combines two parts made for Manhattan public access tv, one of which was made on a broken machine so parts are too red.
Special thanks to Alan Lorber for giving me permission to use segments from his Groupie album (c) Iris Properties, Inc.

DISCLAIMER: You must be over 18 to watch Sex on the Net

(let's pretend that we don't know that half the people doing it are logged on from their school labs)
---
NEW: W! Cleo in Goa, 2000 (If you get error 29, that means too many people are watching videos or the server is down. Net congestion is getting worse and worse every day. Try again later)
---
To the scheduling of Cleo's Adventures on Manhattan Public Access TV
To Cleo's home page