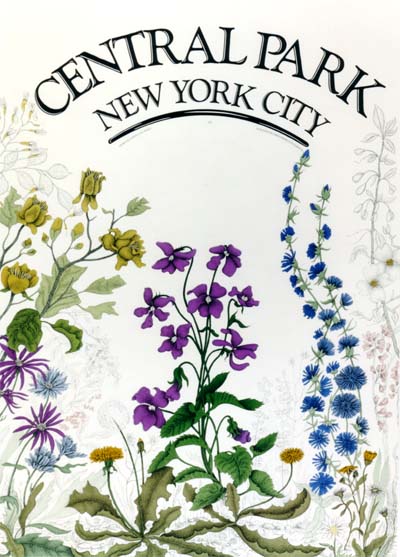 Central Park: Wildflowers

Drawn by Joseph LoGuirato

Tulip tree, asters, black locust, yellow wood, chokeberry, dandelion, daisy, chicory, star of Bethlehem, violets, lily of the valley, redbud, silver bell tree, flowering dogwood.

Joseph LoGuiarto is a graphic artist and painter who creates watercolors, acrylics, pen and ink drawings, and etchings. His work has been on exhibit at Lincoln Center, Queens College, and in a number of private collections. Among his most notable works are several etchings including "Armadillo," "The Skull," and "The Confrontation." He holds a B.A. in fine arts from Queens College, and belongs to the Bitten Image, an arts group specializing in printmaking processes such as etching and lithography. He and his wife, Stella, have one son, Christopher, and live in College Point, Queens.

This poster is published for the benefit of the Marianne Moore Remembrance Fund. The fund is used for tree care in Central Park and Prospect Park.