A sampling of the reviews...

"William Kidd is remembered as one of history's greatest pirates, and thousands of
people have searched in vain for the treasure he supposedly left buried on a desert island.
In this fascinating work of historical revisionism, Zacks argues that in fact Kidd was a privateer,
commissioned by the British Crown to hunt down pirates. But his mutinous crew
was dissatisfied with the slim pickings of buccaneer-hunting, and Kidd himself inadvertently
fell afoul of the powerful East India Company, which tarred him as a criminal. Instead of being
acclaimed a national hero, he died on the gallows, in 1701. Zacks's detective work here is
thoroughly convincing. In addition, he sets the suspenseful tale of Kidd's downfall within its
larger historical context, in a manner reminiscent, at times, of Defoe, vividly illustrating the
brutalities of life on a seagoing vessel and the chaos of urban society at the end of the seventeenth century."

"According to this lively account, William Kidd, aka Captain Kidd,
was hardly the bloodthirsty buccaneer of legend but a mercenary who lived in New York
and was hired by the British government and some wealthy merchants to hunt down pirates
and reclaim their booty. The result is an "entertaining, richly detailed and authoritatively
narrated" yarn, one critic said last year.

MAGAZINE
"It was all a frame up. Captain Kidd, legendary scourge of the high seas,
was actually a good guy, commissioned by the King of England in the 1600s to catch pirates.
But that doesn't make this biography any less swashbucklingly gripping. A cocksure Scottish charmer,
Kidd roams the ocean swapping broadsides and crossing cutlasses in fine style, and with Zacks
at the helm you can smell the brine and taste the hardtack. In those days, the ocean
was a no-man's-land of freebooters and privateers, where everybody flew false flags and switched sides with
the change of the tide. Kidd's mission ultimately founders in political waters, but Zacks's telling of it can stand
with anything by Patrick O'Brian as a magnificent naval adventure."

"A bona fide a historical thriller"

"Part high-seas adventure, part courtroom drama."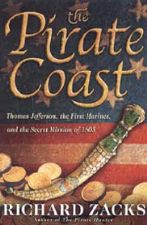 go back