GREENSWARD FOUNDATION
BOOKS AND PAMPHLETS
---
---
Rockefeller New York

A tour by Henry Hope Reed
Photographs by Esther Bubley



MEMORIAL SLOAN-KETTERING CANCER CENTER

York Avenue and 65th Street

Just across York Avenue from Rockefeller University is Memorial Sloan-Kettering Cancer Center, a world-renowned institution with which the Rockefeller family has had a long association.

Memorial Hospital originally was located at 106th Street and Central Park West. In the late 1930s, Mr. John D. Rockefeller, Jr., who maintained a lifetime interest in cancer treatment, research, and care, purchased the block bordered by First and York Avenues and 67th and 68th Streets and donated it as the site for a new hospital. Ground was broken in 1937 and the first patients began moving in two years later.

The General Education Board, a philanthropy established by Mr. John D. Rockefeller, Sr., contributed $3 million toward the construction of the hospital.

In 1945, Alfred P. Sloan, Jr., the philanthropist and industrialist, and Charles F. Kettering, inventor and industrialist, joined forces to establish the Sloan-Kettering Institute, an extensive research facility associated with Memorial Hospital and devoted solely to cancer research.

A new 19-story, 565-bed Memorial Hospital -- the building now fronting on York Avenue -- was opened in 1973 as part of a long-term building program for Memorial.

The construction underway on 67th Street just off York Avenue is the Rockefeller Research Laboratories building. The $78 million structure is named in tribute to Mr. John D. Rockefeller, Jr., who was the father of the Rockefeller brothers and who contributed to every aspect of the Center -- research, patient care, and education. Mr. Laurance S. Rockefeller, his son, contributed $36.2 million toward the construction of the 14-story building which will house a conference center, teaching rooms and 11 floors of cancer research laboratories. Vice President George Bush spoke at the official groundbreaking ceremonies for the laboratories on June 24, 1986.

Mr. Laurance S. Rockefeller, following in the distinguished path of his father, John D. Rockefeller, Jr., in his concern for cancer sufferers, has served Memorial for almost 40 years in positions of leadership. He was elected to the board of managers of Memorial Hospital in 1947, became chairman of the Center in 1960, and served in that position for 22 years until 1982, when he retired and was elected honorary chairman.

Patients from around the world are treated here, and doctors who have trained here are now located in many countries.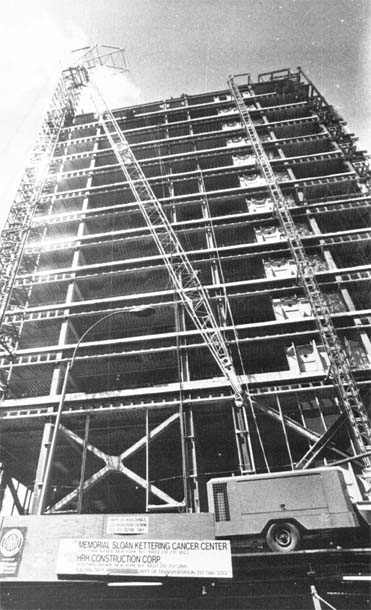 Rockefeller Research Laboratories of the Memorial Sloan-Kettering Cancer Center under construction, August 10, 1987.