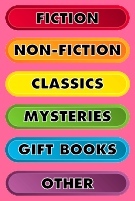 Gay/Lesbian/Feminist Bookstores Around the Country
The Mostly Unfabulous Homepage of Ethan Green



Great Gay and Lesbian Lit Links
Our Best Bets for Readers:
Advocate Magazine The nation's best gay and lesbian news magazine.

Blair Magazine Outrageous, nostalgic, very funny.

Blithe House Quarterly A colorful online magazine featuring a mix of sexy, thought-provoking gay short fiction.

A Crystal Diary Homepage for a lesbian novel by Frankie Hucklenbroich.

Electronic Gay Community Magazine Solidly written journal of news and opinions. Extremely slow to download, considering there are almost no graphics.

Frontiers A weekly newsmagazine with Los Angeles and San Francisco editions.

Gay Literature here A personal homepage that reviews gay fiction and nonfiction.

Gay Lit Now A personal homepage that reviews gay books.

GaySource Lots of good content; a few too many frames.

Genre Magazine A range of article from "the gay Esquire."

Girlfriends Magazine The Web version of the smart and sassy lesbian magazine.

The Harvard Gay & Lesbian Review A sampling of the magazine.

Holy Titclamps Larry-bob has a peculiar sense of humor.

Kenneth Harrison's Home Page Personal site of a gay erotic fiction writer.

The Lavender Salon Reader Online

OutSmart Magazine An excellent little gay and lesbian monthly.

POZ Magazine A good read and a great resource for the HIV-positive community.

Queer Nation: The Online Gay Comic Gay superheroes are the best kind. A fun, well-drawn comic serial.

Wildcat Press Lots of good excerpts to read online.

Yahoo! - Business and Economy... Check out Yahoo's own gay and lesbian lit links.