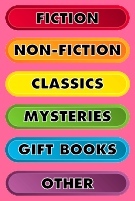 Letter From the Editor
Gay/Lesbian/Feminist Bookstores Around the Country
The Mostly Unfabulous Homepage of Ethan Green



Glad You're Here
A Letter from the Editor
Welcome to the Stonewall Inn Web-site, which is dedicated to the gay/lesbian interest books and authors published by St. Martin's Press/Stonewall Inn Editions.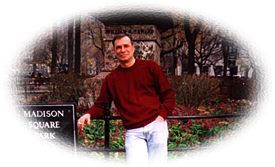 Editor Keith outside his Flatiron Building office.
So who are we? St. Martin's is one of the 10 largest book publishers in the United States. (For those curious, St. Martin's Press is wholly owned by Macmillan of London of which the majority stake is owned by Holtzbrinck Gmbh of Germany.)
We have always published a broad range of books, from fiction and biography to mysteries and cookbooks, and have had our share of bestsellers over the past 40 years (Silence of the Lambs by Thomas Harris, The Shell Seekers by Rosamunde Pilcher, and All Creatures Great and Small by James Herriot being among the better known of our books). One part of St. Martin's overall publishing program is a long-term commitment to quality gay and lesbian interest titles.
Stonewall Inn Editions is a trade paperback line founded at St. Martin's in 1987 by editor Michael Denneny and to this day it remains the only gay/lesbian imprint at a major publishing house. I took over as the general editor of the line in 1994, having worked with Michael since 1988. Among the more generally known authors we have published (or soon will) include Randy Shilts (And the Band Played On and The Mayor of Castro Street), Ethan Mordden (Buddies, Some Men are Lookers, and others), Paul Monette (Love Alone), Michael Bronski (The Pleasure Principle), Susan Fox Rogers (Sportsdykes and Close Calls) and Ruthann Robson (a/k/a). We have published, and continue to do so, a wide range of books for the gay/lesbian community -- from gift and photography books to serious fiction; from cartoon books to cultural studies.
But enough background ... Since launching this Website in 1996, we've continuously featured our recently published books, with quotes, reviews, and brief excerpts. Whenever possible, we feature brief interviews with the authors, links to author websites, tour schedules, editorials, and other original material. Other features include a gallery of plates from our photography books (which we'll be rotating frequently), cartoons from The Mostly Unfabulous Social Life of Ethan Green, a complete listing of all the Stonewall Inn books as well as other of St. Martin's gay/lesbian interest titles, and as complete as possible a listing of gay / lesbian / feminist bookstores (and independent bookstores with a strong gay/lesbian section).
We also have a series of links to other gay literary sites of interest -- if you know of one we're missing, please let us know.
Since launching the site over two years ago, we've steadily added features and made improvements. Recently we completed a top-to-bottom redesign of the site - hopefully making navigation easier, the site more visually pleasing and easier to use. We consider the Stonewall Inn site to be a continuous work-in-progress so if there is anything in particular you'd like to see her, send an e-mail and we'll see what can be done. But in the meantime, welcome to Stonewall Inn's home on the web.
Keith Kahla
General Editor / Stonewall Inn Editions