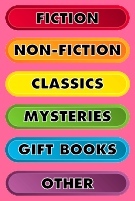 Gay/Lesbian/Feminist Bookstores Around the Country
The Mostly Unfabulous Homepage of Ethan Green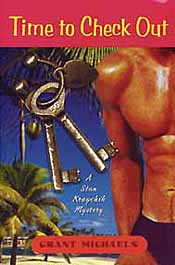 Time to Check Out
By Grant Michaels
Stan Kraychik, the campy hairdresser from Boston's Snips Salon who turned in his psychology degree to "shrink 'em at the sink", returns in the latest in this popular series of mysteries. Having lost his ballet dancer/lover Rafik in a tragic accident involving a rampaging delivery truck, the Widow Kraychik has decided to spend some of his inheritence getting away from it all.
Driving as far south as possible, he ends up in Key West -- paradise to some and hell on earth to others -- where Stan's ability to find trouble quickly has him stumbling over the dead body of a much disliked local landlady. With nowhere to go and nothing better to do, Stan begins to investigate the local scene and asking questions about the not-so-dearly departed.
It quickly becomes apparrent that, although idyllic-seeming to the outsider, this "paradise" hides a vast and confusing array of festering rivalries among the locals and that almost no one is mourning the dead. Stuck in a place where entertainment is a drag-queen lip-synching 12-step anthems, where everyone is either an alcoholic or in recovery, where the art scene consists mainly of t-shirts painted with geckos and parrots, and the only thing the locals like less than each other is nosy outsiders, Stan quickly finds himself the target of a series of attempts on his own life.
What began as a diversion to take his mind off the death of his lover is now a deadly game of survival -- can Stan find and stop the murderer(s) before the murderer(s) stop him permanently?


Ready for more? Check out what's inside:

Back to the Stonewall Inn