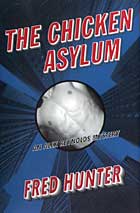 The Chicken Asylum
An Alex Reynods Mystery


By Fred Hunter



Alex Reynolds, his lover Peter Livesay, and his mother Jean have been living secret lives -- they are occasional freelance operatives for the CIA. In the past they've been wrapped up in cases involving international espionage where the stakes were high and the consequences of failure dire. So it is with some trepidation and excitement that they greet the request from the CIA that they take on one more assignment. It is with dismay and confusion that they learn that what the government wants them to do is . . . baby-sit.
The person in question is an 18-year-old Iraqi soldier who has defected, been given the name James Paschal, and is in Chicago to be debriefed by government agents. The government seems to think that some home cooking and a nice place to stay is just what he needs. But the 18-year-old defector turns out to have information about, and is possibly directly involved with, a terrorist organization known for its ruthlessness. To complicate matters further, he is gay. The target of an unexpected assault, James mysteriously disappears while under the care of Alex, Peter, and Jean. Now the three of them find themselves under the watchful and suspicious eyes of the government and terrorists alike and James's life, as well as their own, depends upon them finding the missing boy.
Fred Hunter is the author of numerous mystery novels, including four previous in the Alex Reynolds series. He lives in Chicago.
Visit the author's web-site at home.earthlink.net/~fhunter.
Sounds like a page-turner, right? Read more:
Excerpts from The Chicken Asylum

The Fred Hunter Interview: The author talks about research and writing, and also offers advice to beginning writers.
Copyright © 2001 St. Martin's Press.


Back to the Stonewall Inn