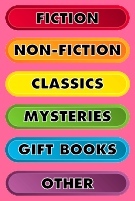 Gay/Lesbian/Feminist Bookstores Around the Country
The Mostly Unfabulous Homepage of Ethan Green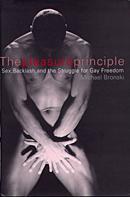 The Pleasure Principle
Sex, Backlash, and the Struggle for Gay Freedom
By Michael Bronski



From the subversive, coded, sexual antics of Pee-wee's Playhouse to the explicitness of the Calvin Klein underwear ads to the pop drag hits La Cage Aux Folles and Priscilla, Queen of the Desert, gay culture has had an enormous impact on mainstream culture. In spite of this, the political struggle to secure the most basic rights of citizenship and equality for gay men and lesbians remains a pitched battle.
In The Pleasure Principle, renowned cultural critic and commentator Michael Bronski examines the complicated relationship between gay and mainstream culture, illustrating that while most heterosexuals need and love aspects of gay culture, it also causes them enormous anxiety and fear. Drawing on a half-century of gay history -- post-World War II fashions, the emergence of the "clone" and the "daddy," the rise of the gay consumer, Bowers vs. Hardwick, the Mapplethorpe controversy, and the right-wing, anti-gay referenda -- Bronski brilliantly maps the fascinating and often ironic interplay between culture and politics.
Challenging most of the preconceived notions, The Pleasure Principle offers a profound and disturbing analysis of the roots - and the damaging results - of Western culture's inability to deal with both pleasure and sexuality, especially as they are embodied for many by gay culture.

Michael Bronski is the author of Culture Clash: The Making of Gay Sensibility (South End Press, 1984) and the editor of Flashpoint: Gay Male Sexual Writing (Richard Kasak Books, 1996) and Taking Liberties: Gay Men's Essays on Politics, Culture, and Sex (Richard Kasak Books, 1996). His essays have appeared in numerous newspapers, magazines, and journals, and he has lectured widely on art and politics. He lives in Cambridge, Massachusetts. Visit his Web site at members.aol.com/pleasprin or drop him a note at pleasprin@aol.com.


---
"The Pleasure Principle is an extraordinary piece of writing: colorful, far-ranging, and deeply insightful in exploring the connection between gay culture and the larger American scene. It is full of fascinating glimpses of contemporary life and, altogether, a pleasure to read."

-- Howard Zinn, author of A People's History of the United States



"One cannot be an integrated intellectual without engaging the ideas of Michael Bronski. A huge contribution to the contemporary debate."

-- Sarah Schulman, author of Shimmer



"Michael Bronski is one of the great unnatural resources of gay and lesbian letters. In The Pleasure Principle he uses his wide-ranging command of history, ideas, and "pleasure" -- in all its guises, >from sex to pop music to Pee-Wee Herman -- to uncover the complex dialogue between gay and mainstream cultures, a conversation where one side pretends not to be listening. The book is more than an informed look at gay lives; it offers a whole new way of looking at American society."

-- Christopher Bram, author of Gossip



"The Pleasure Principle is lucid, compelling, and original. Michael Bronski's sharp insights into current debates on sexuality are provocative and refreshing. Essential and fascinating reading."

-- Urvashi Vaid, author of Virtual Equality



Sound interesting? Read some more:

Back to the Stonewall Inn