Drama Queen
Introduction
Excerpts: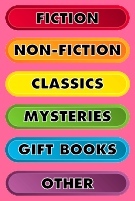 Gay/Lesbian/Feminist Bookstores Around the Country
The Mostly Unfabulous Homepage of Ethan Green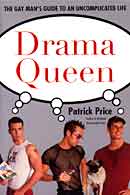 Drama Queen
The Gay Man's Guide to an Uncomplicated Life


By Patrick Price
Photographs by Ramón Ríos


For many gay men, drama is the raison d'être of their entire existence. Everybody has met someone like this -- they spend the rent money on a new wardrobe, spread more gossip than E! Entertainment News, and every minor incident is cause for a major scene. While the afflicted might believe their endless drama is an essential spice of life, in reality it scares off friends, irritates family and co-workers, and sends strangers running for cover.
But finally, there is hope for us all. Drama Queen is the essential guide for recognizing, acknowledging, and turning down the volume for every drama-loving man. It explores the roots of drama, quantifies the major types of drama queens (Gym Addict, Health Freak, the gossipy Public Address system, and more), and provides quizzes to help the reader identify their own DQ (Drama Quotient). But most importantly, it provides a friendly guide to help the drama queen get over himself. Drama Queen is fast, funny, deadly accurate and more than a bit serious.
PATRICK PRICE is the author of the best-selling Husband Hunting Made Easy. Crowned "A Miss Manners for the Disco Set" (Dallas Voice), he's proud to be viewed as the "Gay Ann Landers" -- minus the perm and competitive twin sister. Born and raised in northern Virginia, Patrick graduated from the College of William and Mary and New York University's Summer Publishing Program in 1993. He now lives in New York City, works in the publishing industry, and is on a painfully strict diet of mere window-shopping.
Visit the author's web-site at www.patrickprice.com
Table of Contents:

DRAMA IS AN ELECTIVE
Stress Versus Drama: A Survey
"But I Thrive on Drama!" Common Delusions of a Drama Queen
My Life Versus a Lifestyle
What's Your DQ (Drama Quotient)?
Last Call for Drama

THE FRIENDS WE KEEP
Character Study
Drama's Roll Call
Dos and Don'ts of Fair Friendship
Is Your Best Friend the Best Friend?
An Imbalanced Friendship
When Friendships Drift
Roommates -- Half the Rent, Twice the Trauma
Flesh and Blood: (The Inescapable Bond)
Selective Hearing (How to Handle Deep Denial)
The Often Bumpy Road to Acceptance (and Why It's Worth the Ride)

THE ROOT OF ALL MISERY: (MONEY)
Capital Gain
Compulsive Spending
Common Financial Follies
Doing With Less (or At Least Trying)
Wallet Dos and Don'ts
Credit: (How You Get Screwed)

"I HATE MY JOB" IS NOT A HEALTHY MANTRA: (CAREER AND AMBITION)
Good Company
Hate the Boss, Hate the Job, Hate Your Life
Workplace Dos and Don'ts
Office Romances (The Water Cooler is Not a Dating Pool)


The Cruel Allure of So-Called Glamour Jobs
Holiday Parties
How to Survive Being an Assistant
"Show Me the Money!": (How to Ask for a Raise)
Out at Work?
Understanding Heterosexuals
Stress Management
Imposter Syndrome
When You Know It's Time to Move On
Relax, It's Just a Job!

READY TO SHARE THE WEALTH: (LOVE AND RELATIONSHIPS)
Two's Company
Finding Him
Keeping it Casual: (Relationships vs. Simply Sex)
Next Stop: Relationship (Pop., 2)
When the "Other Guy" is a Dog
Relationship Reminders
Handling Heartbreak: (Gluing Yourself Back Together)
What Are You Waiting For?

CARRY-ON BAGGAGE: (HANG-UPS)
A is for Attitude
Do these Pants Make Me Look Butch?
Body Image: (Pecs-R-Us)
Pageant Mentality: (Judging Others)
"Birds of a Flock" Principle
Depression
Spirituality (Whatever Level You Need)

LOOKING AHEAD: (GROWING UP)
Fight Fatalism -- The Troll or Dull Prophecy
Grappling with the Big "3-0"
Home is Where You Make It
Don't Hide From Younger Generations
Kidding Around
Final Thoughts
Plus: Read an online-only interview with author Patrick Price.
Copyright © 2001 St. Martin's Press.


Back to the Stonewall Inn