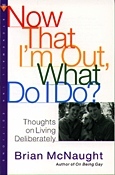 From Chapter Seven: About Our Gay, Lesbian, and Bisexual Youth
By Brian McNaught
Until our schools finally do take steps to protect our gay youth from isolation, harassment, and desperation, and initiate programs of support, these youngsters are left to fend for themselves and to rely on whatever assistance is available outside of school. Fortunately, there are some people who have stepped forward to help create a few safety nets for them.
Michael May is one such person. He's a Michigan real estate manager by trade, and a coach and youth worker by passion. Michael was thirty-eight years old when he was approached, in 1984, by quiet and shy nineteen-year-old Sean, who wanted help in starting a gay youth group.
"The people at P-FLAG (Parents, Families, and Friends of Lesbians and Gays) sent him to me," explained Michael. "I was doing youth work at Fountain Street Church and they didn't know where else to send him."
Sean had attended meetings for gay Christians and those of the local women's group but was frustrated by their lack of resources for gay youth. He wanted something like the organization he had attended back in Portland, called Windfire.
Michael acknowledged that he had no idea how to locate other gay youth to join the new group, but he promised Sean that he would work with him to form a local Windfire.
"I'll meet with you every Thursday night at the church, even if it's just the two of us," he told him. "You have my word."
For three weeks, it was just the two of them that met. And for the first nine to twelve months, there were just three or four in attendance. Nevertheless, Michael showed up as promised every Thursday evening.
"We decided right off the bat that the meetings were going to be positive," Michael explained. "We didn't want it to be a gripe session during which everyone complained about how horrible it was to be gay. Everyone was expected to give their first name and tell one positive thing that had happened to them during the week. It could even be about a movie they'd seen. When someone would say that nothing positive had happened, I'd say, "Okay, of all the horrible things that happened, what was the least horrible?"
The kids agreed with the need to focus on the positive, but eventually convinced Michael they needed at least five minutes at each meeting to vent about how hard they found it that week to be a gay, lesbian, bisexual, or transgender teenager.
After the introductions, Michael helped coordinate an activity to get a discussion going. He might introduce an icebreaker that he had used with other teen groups, bring in an outside speaker, show an educational video, or even take the kids on an outing, like bowling.
At the end of the evening, he always offered them a little bit of gay history, usually by reading off the birthdays of well-known gay people and discussing the contributions these women and men had made to the movement and to society.
Between meetings, on more than one occasion, Michael had the kids to his home to swim and took them out on his boat. They even made a trip together to Detroit for the annual Gay Pride parade and rally.
"What they needed most was a place in which they could feel safe to be themselves and to have open conversations," he explained. "Our criterion was that we always wanted to do things with which even the most timid would feel comfortable."
Eventually the group grew to twenty young people, aged fourteen to twenty-two. That includes those who would sit outside the room week after week and just listen.
Timmy was initially such a visitor.
"He was a fourteen-year-old from a small school," explained Michael. "For three weeks he sat in the hall and wouldn't come in. Thirty percent of the time, there's a kid outside in the hall just listening.
"We leave them alone," he said. "If you go out and try to coax them in, they can be frightened away. It's best to let them come in at their own pace."
Eventually Timmy did, but for several meetings he wouldn't look up at the group.
"He was the kid without a face," Michael recalled. "You never saw it. I used to look over, though, and occasionally see his tears hitting his hands.
"But you should see him now," he added with excitement. "He's smiling. Interacting. He's a whole different person."
So too is Sondra. She's another of this group's "100-plus" success stories.
By Michael's description, Sondra was a 200-plus-pound, timid, embarrassed, fifteen-year-old black girl whose mother called her "queer" and "dyke" rather than by name.
"She's still a little shy," Michael said, "but you should see Sondra now. She lost all of the excess weight, she's very attractive, and she graduated with honors from high school. She told us that when she joined the group, she had wanted to kill herself. She credits the group with saving her life."
Michael and members of the group have helped spawn a half-dozen other Windfires throughout the state. He also regularly meets with human services professionals, counselors, teachers, and probation officers to explain the needs of gay youth and to inform them of Windfire's services.
Michael feels that there are four things gay adults need to do for gay, lesbian, and bisexual youth:
Mentor. "They need guidance. It's easy to volunteer."
Be role models. "They need someone to look up to, to admire, to want to be like."
Provide financial support for youth programs. "Our numbers ebb and flow according to our ability to advertise our services. When we run out of money, we can't get the word out that we're there for them."
Sit down with school counselors and teachers. "I tell them, 'I don't care how you feel about the subject, you've got to deal with this. You can't impose your values on the kids."
Though Michael is still very involved in Windfire, he no longer facilitates the group. He's delighted to say he was able to find a gay man and a lesbian woman to take over.
"The kids need those positive role models," he said.
Yes, Michael May is heterosexual, but he hates having people know.
"I can't stand hearing someone say, 'I'm supportive but I'm straight,'" he explained. "Why do people need to say that?"
Michael is the long-term "significant other" of my buddy, Jan Lundquist, director of education for Planned Parenthood in Grand Rapids. She never held a title in Windfire, but she too opened up her heart and home to the gay, lesbian, and bisexual youth, filled out grant applications, put Michael in touch with people who could be helpful, and provided gay-positive sexuality education to the kids. She's also on the front lines of the battle, educating administrators, teachers, and counselors to their responsibilities to gay youth.
None of this has been done without a price tag, of course. Michael and Jan have received threatening letters and calls because of their efforts. But they're undaunted.
Copyright © l997, Brian McNaught.





Back to the Stonewall Inn