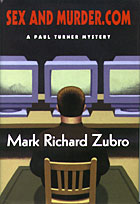 Sex and Murder.com
A Paul Turner Mystery


By Mark Richard Zubro



Craig Lenzati is one of the richest and most powerful men in Chicago -- as the CEO and co-founder of Chicago's answer to Microsoft, he wields enormous economic and political power. Lenzati was also found brutally murdered -- with dozens if not hundreds of stab wounds -- in the midst of the mansion in which he lived alone. With the murder reported anonymously, the security camera videos missing, and City Hall pressuring for a quick and quiet resolution to the murder, Detective Paul Turner and Buck Fenwick are well aware they are facing one of the most difficult cases of their careers. In addition, Chicago is next in line for a visit from a traveling serial killer -- one who seems to specialize in cops -- and, if this serial killer really exists, it seems that Fenwick is on his list.
As they investigate deeper into Lenzati's murder, it soon becomes clear that he was deeply embroiled in something -- a sordid game that may have lead to his death. If so, then Turner and Fenwick don't have much time to unravel the mysteries behind the game Lenzati was playing before the killer strikes again. And that doesn't leave them much time to find out who is stalking Fenwick, much less keep him alive.
Mark Richard Zubro is the author of over a dozen previous mysteries, including the Lambda Literary Award winning A Simple Suburban Murder and the recent One Dead Drag Queen. He is a high school teacher and lives in Mokena, Illinois.
Sounds like a page-turner, right? Read more:
Copyright © 2001 St. Martin's Press.


Back to the Stonewall Inn