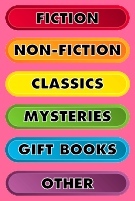 Gay/Lesbian/Feminist Bookstores Around the Country
The Mostly Unfabulous Homepage of Ethan Green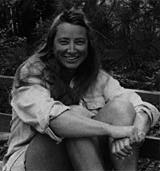 An Interview with Ruthann Robson
The Author of a/k/a Talks About Her Work
Ruthann Robson is the author of four published books of fiction: Eye of a Hurricane, Cecile, Another Mother, and, most recently, a/k/a.
Q: Do you consider your work to be "lesbian fiction" or "fiction with lesbian characters"? Do you think there is really a distinction to be made and, if so, what is it?
Robson:I consider my work to be "lesbian fiction" rather than "fiction with lesbian characters." The distinction, for me, is between work which comes out of a tradition of lesbian writing and life rather than work which is largely indebted to other literary and cultural traditions. This does not mean, of course, that any piece of my work is influenced by only one tradition. It also does not mean that I assume readers of my work must know every nuance of the lesbian literary tradition or even identify as lesbians --- part of the writer's work is to create a world in which any reader can participate. Nevertheless, I do think there is a body of work called lesbian fiction. At times, I think my writing seeks to change that body, by including ideas or characters that have not been included, but I always hope my work is part of that amazingly diverse and vibrant body called "lesbian fiction."
Q: What role do you think books (especially fiction) play or continue to play in the lesbian community?
Robson:I think literature continues to play an important part in lesbian community and culture. Despite what we hear about the "end of print culture" and the saturation of the world by visual media, literature is extremely vital. Because writing and reading are often individual experiences, we tend to forget the role literature plays in building and shaping culture and community. Literature is not superficial -- it makes us think deeply about our own lives, the lives of people we know, as well as the lives of people who we might never know except for their existence as characters. This thinking allows us not only to celebrate ourselves, but also to work for political and social change.
Q: How much of yourself, if any, do you put into your characters?
Robson:Like almost every writer, I put huge chunks of myself -- as well as the people I have known -- into every character and situation, although not in the way some readers assume. One of the joys of writing, for me, is imagination, so that I would find it rather dull and tedious to simply recollect or report on emotions, incidents, or events. Instead, writing allows me to imagine someone who I might have been or have known, things that might have happened, and to work out the details and consequences of it all. The imagining process is accompanied by a great deal of research -- talking to people, visiting places, reading nonfiction which might be theoretical, sociological, psychological, or personal narratives. I am very interested in the choices that lesbians make given many social, personal, and political constrictions, and writing is one way to explore those choices. Reading is another.
Q: Of the two main characters in a/k/a, what drew you as a writer to want to write about them?
Robson: In a/k/a, I was drawn to thinking about identity by some of the lesbian literature I was reading as well as some of the current queer theorizing, in the legal field and more generally. I was struck by the fact that what was being emphasized was sexual and gender identity -- and I wanted to write something that took "lesbian" as a constant identity but threw all other identities into doubt. So, although there are some issues of sexual identity in the supporting characters, the two main characters are lesbians, but everything else about them is uncertain, including their names. One character is more conscious about her identity and is working very hard to create an identity that might allow her to live the kind of life she wants. The other character, a soap opera actress, is less self-conscious and her longings to escape are more vague. But both women's conceptions of themselves are haunted by a limit-identity. One comforts herself that at least she is "not a murderer" and the other that at least she is "not a prostitute." Their ability to confront these limits is at the heart of their ability to love each other and accept themselves.
Q: Is your writing driven by the characters you've imagined, the plot, or something else? Is the process the same for each book?
Robson: In writing, I start with an often abstract idea (such as "identity") and simultaneously imagine characters (major and minor characters, their names and occupations, their backgrounds and desires). During this process, I am also thinking about the other ideas or themes that will be included and their relative importance. For example, a/k/a is essentially a love story and the idea of the (im)possibility of "love at first sight" is integral to the novel. Yet in many ways, the characters need to resolve "identity" before "love." During the process of deciding upon themes and characters, I think about structure, which is very important to me. Until I have a working structure, I cannot begin to seriously write (as opposed to jotting notes or scenes).
Q: What else are you working on?
Robson: I am presently finishing several nonfiction projects. Sappho Goes to Law School, which is a collection of my pieces about lesbian legal theory, is forthcoming from Columbia University Press in the Spring of 1998. I am also finishing up the editing of an anthology on lesbian legal theory. Lastly, I am completing a historical work that I am co-authoring about queer life in the U.S. from 1900-2000. All of this is related to my work as a law professor at the City University of New York School of Law, which is one of the only progressive law schools in the nation, where I teach sexuality and the law, constitutional law, and several other courses.
In terms of fiction, I am in the midst of two projects. One is a eco-lesbian novel entitled Close to Utopia. I am also working on another collection of short fiction and re-devoting myself to short stories in a way I have not done for several years.
The problem, as always, is finding the time/space to write.
Copyright © l997, Ruthann Robson.





Back to the Stonewall Inn