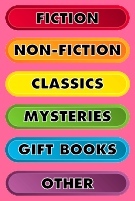 Gay/Lesbian/Feminist Bookstores Around the Country
The Mostly Unfabulous Homepage of Ethan Green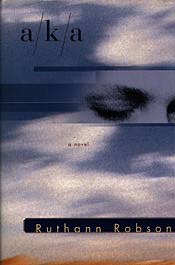 a/k/a
By Ruthann Robson
a/k/a, the abbreviation for "also known as," centers on two women with complicated and contradictory identities.
Margaret, raised with ever-changing names in a series of foster homes, assumes various names in her career as an "escort" for women. As Tamara, she supplies sexual favors for a minister's wife; as Melanie, she is hired to be "gorgeous" for an unattractive lesbian; and as Ursula, she dates -- and provides cover for -- the heterosexual female director of a gay and lesbian organization. Her most desperate identity, though, is law student Margaret Smyth, the name she hopes will rescue her from the others when she graduates.
BJ, short for Beverly Jane, came to New York to model but found instead a lucrative career as a soap opera actress. For almost twenty years, BJ has performed, under her stage name, Jill Willis, as a do-good lawyer on a daytime serial. Her private life resembles too closely the kind of drama in which she acts -- especially after a man claiming to be the sperm donor for Malcolm, the child she has raised with her mentally ill lover, shows up.
The two women are initially strangers to each other, but as their identities unravel, bringing them closer to disaster and death, and their carefully constructed lives decay, they find themselves drawn by events to each other and to the possibility of salvation.
a/k/a is a delicate, intricate, and powerful novel that reveals a world where people are not who they appear to be, not even to themselves.
Ruthann Robson is the author of three previous books of fiction -- Eye of a Hurricane, Cecile, Another Mother -- and two books of non-fiction. She is the winner of the Ferro-Grumley Award for her collection Eye of a Hurricane and is Professor of Law at the City University of New York School of Law.
---
"As compelling and suspenseful as a thriller, a tour de force of originality, complexity, and edgy intelligence, a/k/a lays bare the lives of two arresting women from vastly different worlds on an inexorable trajectory toward each other."

-- Katherine V. Forrest, author of Liberty Square
"Robson is a terrific writer who creates fascinating characters who are flawed, human, sympathetic, and likeable."

-- Harvard Gay and Lesbian Review
"Robson is a graceful writer, adroit at plotting out the social grid of her characters, its extremely particular satisfactions and frustrations."

-- The Women's Review of Books
---
Sound interesting? Read some more:

Back to the Stonewall Inn