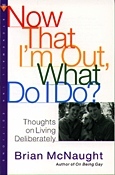 Table of Contents for Now That I'm Out . . .
By Brian McNaught
Chapter One: About Fitting Into the Gay Community
Chapter Two: About the Man on the Plane
Chapter Three: About Sexuality
Chapter Four: About Love and Marriage
Chapter Five: About the Workplace
Chapter Six: About Our Families
Chapter Seven: About Our Gay, Lesbian, and Bisexual Youth
Chapter Eight: About Our Allies
Chapter Nine: About Religion and Spirituality
Chapter Ten: About Assessing the Options
Sources
Resources
Copyright © l997, Brian McNaught.





Back to the Stonewall Inn