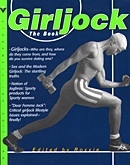 All Dinah Shore Golf Action
From Girljock: The Book
When I found out that I, a non-golf fan, was going to the Dinah Shore Golf Tournament in Rancho Mirage, Palm Springs' neighbor, California, I called my friend Norma, a Southern California golfing expatriate, and asked what people wore to such occasions. The Nabisco Dinah Shore Golf Tournament is reputed to attract the largest lesbian gathering in the known universe. Southern California lesbians, who are among the most likely to attend this event, are rumored to have more glamorous dress codes than the rest of the country. Is it caused by the Hollywood effect? People even say straight men wear makeup in Los Angeles. I didn't want to be inappropriately dressed at the ultimate lesbian cruise-a-thon and golf watcher's delight. Norma told me, "You've got to wear Izod Lacoste polo shirts."
I was mortified. I shrieked.
She counteroffered, "Okay, you can wear a button-down short sleeve plaid."
I said, "I'm not wearing plaid! I wore too much of it in the seventies."
"But plaid is the meat and potatoes of golf! Well, I guess a solid shirt will do. But, be sure and wear white tennis shoes, and no cut-off jean shorts."
She was right about the white tennis shoes, but I still couldn't bring myself to do it. I wore black soccer flats, designed for Astro Turf, with mismatched shoelaces -- one black and one white. I stood out. The only other pair of black tennies I even saw was on a journalist wearing an Izod Lacoste polo. Hairspray was everywhere, fancy clothes, expensive sunglasses, visors with golf equipment names on them. People wore saddle shoes and gold watches. Most of the golf fans were white. Although some people of color watched the tournament, most of the professional golfers were white, too.
Like any other reporter going to a major athletic tournament, I applied for a press pass. But Donna Hahn of Hahn Communications, the public relations office handling press passes to this event, turned down my application. Donna Hahn told my editor that the thought of a lifestyle piece on the Dinah Shore Tournament made her feel uncomfortable.
I called the Nabisco Public Relations office in New Jersey. Had my reputation as an irreverently queer sporting journalist preceded me? Why wouldn't they want Girljock at a Golf Tournament? P.R. man Mike Falcowitz suggested, "You aren't exactly popular with big corporations becomes sometimes you're cynical about corporations, and besides, you haven't given me a free subscription yet." He sent me a tournament directory, saying it was almost as good as a press pass. "It's got all the right phone numbers in it," he consoled.
With no press pass in sight, I decided to attend the weekend undercover as a golf fan. That way, I figured, more people would feel comfortable speaking with me. I knew it meant making fashion compromises. I'd forgo SILENCE=DEATH T-shirts, Doc Marten boots, and my black leather motorcycle jacket. I left the welder/skier form follows function thick sunglasses at home. I bought cheapo designer shorts and short-sleeve blouses at a discount store. For more visual normalcy, I lathered my jet-black extra-curly leg hair with women's shaving cream and mowed it down. I wanted to fit in.
When we drove into the mythic city for fleeing movie stars, wealthy retirees, and golf addicts, my friend and I counted eighteen lesbians on the streets. They wore athletic outfits with white tennis shoes. My friend commented, "The lesbians all look like they are out of Personal Best. "
We headed for the Riviera Hotel, the legendary heart and soul of the Dinah Shore lesbian party scene. A special table at the front offered free copies of OUT Magazine, and the Lesbian News, which had all the scoop on all the lesbian parties during the Dinah Shore Weekend.
The lounge area was crawling with lesbians. There were 32 parties for women, some naughtier than others, like the Whipped Cream Wrestling Contest at Daddy Warbucks, a local gay bar; a Bra Contest at the Desert Pals Inn; and the Jaegermeister poster models autographing their posters at the Riviera's poolside.
The Riviera lesbian cruising was so intense I wondered how the women could walk through the hotel without tripping over furniture.
In the hotel lounge, I asked some Los Angeles women about the scene. "People come here," said one, "to socialize and make a show of their unity. Look, this hotel lounge is like a women's bar, I mean, there's diversity here."
"Diversity?" I said.
"You know, economic diversity, and multicultural."
After a quick glance around I saw one black couple out of about a hundred women.

The next morning, I drove to Mission Hills Country Club for the tournament. I'd dressed in my golf fan outfit to check out the action. Walking into the Country Club grounds, I asked a group of Southern California lesbians, "Do many women actually come to watch the golf?"
Their estimation -- "Half the women never even go to the golf. They are too hung over. When we get back to the hotel, our friends will ask, 'Who won the tournament?' so they can go home and make it sound like they were there."
"We just came to look at the women," said Susan, an engineer from San Diego.
When I reached the Old Course, a tough course, the crowds were full of golf fans, senior citizens, Mission Hills Country Club members who looked down their noses at people who weren't wearing a member badge, and lesbians. Lots of lesbians. The sun was hot and I was drenched in sunscreen and sweat, wishing for an expresso, admiring the accuracy of the pros and the politeness of the crowd.
Golf spectating is for people who follow rules. There's no catcalling in golf. The only fan/player weirdness occurred after a player stormed off in a huff, after finishing her eighteen holes. Her caddy warned off a fan who tried to speak with her, "I wouldn't try and speak with her if I were you. She's had a really bad day, and she can get very mean sometimes."

That evening I went back to the Riviera for Monte Carlo Madness. Three lesbian party producers teamed up to produce a weekend-long series of events, and Monte Carlo Madness was the second.
Monte Carlo Madness was full of thousands of women looking like they just stepped out of Glamour or Elle magazine. A sea of beauties, a laser-light show, and go-go dancers.
There were so many other parties we couldn't even get to. We dropped in at a Bra Contest minutes after it ended, missed the Boot-skootin' Boogie Time, and didn't have time to go to the Outrageous Women in Uniform Party. Thirty-two parties is a lot.
Some lesbian party producers told me that the tournament producers wouldn't connect with any lesbian events, so I called the Nabisco Dinah Shore Tournament office to see what they thought of the lesbian party scene. Director Mike Galeski insisted, "Whatever else is going on in town is in no way connected to the golf tournament."
As I pondered that response, I thought back to something Kate Clinton had said to me the night before. I'd asked her, "Do you think any professional women golfers will ever come out?"
Clinton responded by asking me, "Do we really want queers in golf?"
Golf is a stronghold of mainstream-to-Ivy League America, the sport of those with lots of free time, the fifties suburban American dream sport. Why are so many lesbians drawn to it? Ten years ago the biggest lesbian event in the world was the Michigan Women's Music Festival, a lesbian separatist, camping, nudity-positive, queer Woodstock, an attempt to create new lesbian realities. If you shaved your legs to go to Michigan, you'd be harassed. Today, if you go to the Dinah Shore with extremely hairy legs, people either think you are European, cross-dressing as a man, or a feminist extremist.

During the closing rounds of the final day, thousands upon thousands followed leaders Helen Alfredsson, Betsy King, and Dawn Coe-Jones, from hole to hole. I immediately liked Alfredsson because she was big and strong, she could really move the ball around the picturesque course, she had the most uncannily accurate long shots, and the coolest shorts of anyone at the tournament, including the fans. Her shorts had a goofy looking flower pattern on them.
It was more exciting to watch the women golfers that I had expected. After the tournament, I put a soccer sweatshirt over my flowered short-sleeve golf-fan blouse and headed back to the Riviera Lounge, hoping to catch a little more of the Lesbian Dinah Shore action. I saw a woman in an LPGA emblem jersey who was suntanned and bronzed and dressed like a golfer. I offered to trade her my ultimately cool soccer jersey for her LPGA emblem jersey. Somehow I felt I had been won over to the excitement of women's golf.
She said she wouldn't part with her jersey, she was an LPGA professional golfer, and her jersey represented too much to her. She then gave me a brief interview on the dilemmas of the women's pro golf scene, sexism in golf, how hard it was to be a lesbian on the tour, and how hard it was to be a woman. By then I realized that she was drunk. After she started to repeat herself, I, like a good reporter, knew it was time to wrap it up.
Later than night her friends told me she wasn't a real professional golfer. I called the LPGA to verify this the next day.
After I got over the embarrassment of being taken for a sociopathic ride, I realized that it was only fair, right? I'd tried to pass as a golf fan.
More from Girljock: The Book: