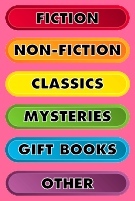 Gay/Lesbian/Feminist Bookstores Around the Country
The Mostly Unfabulous Homepage of Ethan Green



Stonewall Inn Gift Books
In Your Eyes: Quotes on Gay Love edited by Richard Derus

Wit and wisdom from the masters, ancient to modern, on men in love in their various aspects.

ISBN# 0-312-14057-6
$11.00
Check out the gay quote of the day.



The Key to Everything: Classic Lesbian Love Poems edited by Gerry Gomez-Pearlberg

A gift-sized treasury of poems on lesbian love from 44 poets from Sappho to Minnie Bruce Pratt. Nominated for the Lambda Literary Award.

ISBN# 0-312-11842-2
$10.00



The Name of Love: Classic Gay Love Poems edited by Michael Lassell

Captures the classic expression of love between men, ranging from the ancients (Catullus and Martial), through the Renaissence (Shakespeare and Michelangelo), to the moderns (W.H. Auden and Walt Whitman).

ISBN# 0-312-11863-5
$10.00



Portraits of Love: Lesbians Writing About Their Love edited by Susan Fox Rogers and Linda Smukler

An eclectic mix of writings from current partners writing about each other as well as pieces from individuals about their great loves, this collection exalts and explores all that is lesbian romance and partnership

ISBN# 0-312- 15192-6
$12.00



Two Hearts Desire: Gay Couples on Their Love edited by Michael Lassell and Lawrence Schimel

A mix of prose, poetry, journalism, and even memos, the pieces within celebrate the many-faceted bonds between men, offering a fresh look at the many varieties and flavors of gay male love.

ISBN# 0-312-15239-6
$12.00


Photographer Series:
Atkins: Girls Night Out by Chloe Atkins

San Francisco-based photographer Atkins presents a portrait of women at play -- a sexy, often whimsical, occasionally sensual, and completely joyful look at nightlife lesbians in all their diversity.

ISBN# 0-312-18044-6
$13.00



Badertscher by Amos Badertscher

Lyrical and intense, this collection of rising star Amos Badertscher's male nude photography shows a world made up largely of hustlers, drag queens and runaways -- an experience that is simultaneously forbidding and alluring.

Bianchi: Outpost by Tom Bianchi

A portfolio of never-before seen shots taken around Bianchi's most famous prop -- the "Outpost" pool.

ISBN# 0-312-14283-8
$13.00



Costa by Bill Costa

50 images from New York photographer, Bill Costa, who mixed industrial images with arresting men.

ISBN# 0-312-11809-0
$13.00



Cowan by Craig Cowan

L.A. photographer Craig Cowan's first portfolio of art photography centered on the male nude.

ISBN# 0-312-11810-4
$13.00



Maia: Prometheus by Marcelo Maia

Working with the formal elements of composition and light, Maia not only dramatically displays the beauty of the male form but also challenges the existing depictions of black men as photographic subject.

ISBN# 0-312-15166-7
$13.00



Makos by Christopher Makos

Internationally famous photographer Christopher Makos brings his keen eye and considerable talents to bear upon the male nude in a collection that displays his full range -- from formal compositions to head shots to the more traditional nude.

Massengill by Reed Massengill

Strikingly handsome young men are featured in this portfolio of images from photographer and jouranalist Reed Massengill.

ISBN# 0-312-14367-2
$13.00

Photography Books:
Among Women by Tom Bianchi

An appealing collaboration between Bianchi and the women who modeled, this is an exploration of friendship, love and the expression of beauty between and among women.

ISBN# 0-312-13425-8 (cloth)
$40.00



Black Book by Robert Mapplethorpe

The most controversial and arguably most compelling work ever created by famed photographer Robert Mapplethorpe.

ISBN# 0-312-02166-6 (trade paperback)
ISBN# 0-312-08302-5 (cloth)
$29.95 (trade paperback)
$50.00 (cloth)



Extraordinary Friends by Tom Bianchi

Sequel and successor to Bianchi's extraordinarily popular Out of the Studio.

Forms of Desire by Doris Kloster

World-renowned photographer Doris Kloster captures the myrid forms of womenÕs sexual desire -- from vanilla to fetish.

ISBN# 0-312-19414-5
$40.00



In the Studio by Tom Bianchi 0-312-15150-0

Tom BianchiÕs most daring and original collection since his ground-breaking In the Studio -- he expands the definition of art to include some of his most intimate and sexual portraits of gay men. Raw, powerful, and intensely erotic.

Out of the Studio by Tom Bianchi

Captures the beauty, the friendship, and the simple joi de vivre of modern gay life in these strikingly gorgeous images of gay male nudes.

ISBN# 0-312-08277-0 (trade paperback)
ISBN# 0-312-06435-7 (cloth)
$25.00 (trade paperback)
$50.00 (cloth)



Sleeping Beauties by Ken Haak

Acclaimed fashion photographer Ken Haak turned his lens again towards some of the world's most handsome men.

ISBN# 0-312-06015-7 (trade paperback)
$17.95



And that was only the gift books. Check out the rest of the Stonewall Inn book finder.


Back to the Stonewall Inn