GREENSWARD FOUNDATION
BOOKS AND PAMPHLETS
---
---
Bridges of Central Park
Ornamental Bridges and Archways
3. DALEHEAD ARCH
Dalehead Arch is located just inside the Park near Central Park West at 64th Street, a short distance south of the Tavern-on-the-Green. It carries the West Drive over the bridle path with a span 80 feet long. It is 11 feet high and 24 feet deep.
Begun in 1860, like so many of the bridges and archways in this area of the Park first prepared for public use, Dalehead was completed by the year 1862.
The elevations are built of sandstone blocks of random size. The smooth, elliptical arch is hemmed with a brownstone ring molding. Buttresses at the sides of the arch swing out as revetments against the soil embankments that unite the archway with the landscape. Carving enriches the spandrels of the revetments and their terminals. Above, the 77-foot balustrades along the Drive are of sandstone, ornamentally carved with quatrefoil cutouts. The Drive includes sidewalks for pedestrians.
The bridle path passes underneath the archway, and a small open field just outside the western portal is sometimes used by youngsters for softball. Central Park West is within sight, and traffic sounds are omnipresent. At the time of writing, this stretch of the bridle path was closed. One hopes that it may soon be reopened.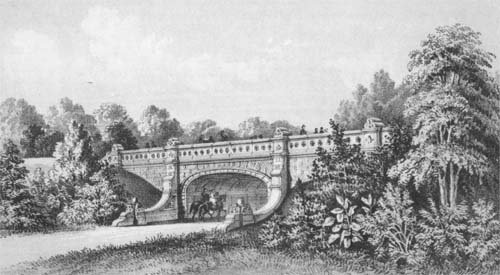 Lithograph.
Third Annual Report, Central Park, for 1859.