GREENSWARD FOUNDATION
BOOKS AND PAMPHLETS
---
---
Bridges of Central Park
Ornamental Bridges and Archways
25. CLAREMONT ARCH
The bridge at Central Park West and 90th Street had no name. As it is over this bridge that the cavaliers enter the park, and as the Claremont Riding Academy at 175 West 89th Street is the only survivor of the many stables once found around the park, it seems appropriate to adopt the Academy's name, which was originally that of a country house that once stood north of Grant's Tomb.
Like Eaglevale Bridge at 77th Street, Claremont is a latecomer, built as part of an access road to the West Drive. It stands just inside the park to the north of the entrance with the Reservoir some 80 yards to the east. Riding enthusiasts have, for more than half a century, appropriated the entrance; it is the most convenient, if not the only entrance, with the bridle path a few feet beyond the Drive at this point.
It should be explained that a few portions of the park were left unfinished for years. One was the northwest side where even the park wall was not completed until the 1880s. Whereas private houses lined Fifth Avenue north of 59th Street, Central Park West was to have large open lots not filled with apartment buildings until a start in the 1880s.
The bridge has an arch approximately 8 feet high, 9 feet 4 inches wide, and 58 feet long, the length explained by its being beneath the access road. The stone is Manhattan schist in rockface ashlar. The parapet walls, also of schist, are about forty feet long. The bridge has unusual elevations in that, horizontally, they take the shape of an elongated S. It is not that the anonymous designer took the English painter Hogarth's line of beauty as model, as much as that the access road curves to the Drive. The later bridge builders, following Vaux, simply continued the tradition of having different designs.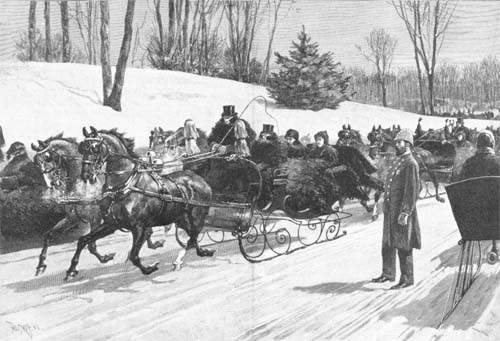 Sleighing in Central Park. T. de Thulstrup.
Harper's Weekly
, February 18, 1888.