GREENSWARD FOUNDATION
BOOKS AND PAMPHLETS
---
---
Bridges of Central Park
Ornamental Bridges and Archways
30. MOUNTCLIFF ARCH
We have noted that a third wave of bridges came to the upper west side of the park in the 1890s. The newly populated Central Park West called for access to the Drive. The last of the three constructed is Mountcliff Arch, as it has been named for this book, off Frederick Douglass Circle at Central Park West, 110th Street and Cathedral Parkway.
As the other two to the south, Claremont Arch and Eaglevale Bridge, it is built of gneiss in rockface ashlar. Material and handling are suitably rugged for this end of the park, which has its steepest slope along with a nearby cliff. It is a big bridge, being 102 feet long and 48 feet high, with a Tuscan arch some 16 feet high and 21 feet wide.
What is, of course, significant in these massive stone bridges is that they represent a continuing tradition, similar in style to Glen Span.
The park's heritage was not tossed aside as if in anticipation of the revolution in transportation which came with the automobile. Interestingly enough, attractive stone bridges were often part of the parkway designs in the 1930s, which represented, as we now know, a dying tradition.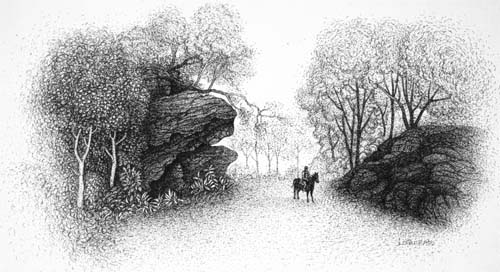 Overhanging rocks on West Drive near Mountcliff Arch. Joseph LoGuirato. 1989.