GREENSWARD FOUNDATION
BOOKS AND PAMPHLETS
---
---
Bridges of Central Park
Ornamental Bridges and Archways
7. BANK ROCK BRIDGE
Bank Rock is a footbridge crossing a narrow arm of the Lake, Bank Rock Bay, west of the Ramble on the latitude of 77th Street. It stands only about 50 yards north and slightly to the east of Balcony Bridge. Originally known as Oak Bridge, featuring the milled woodwork of white oak, the 1860 structure had open cast-iron panels screwed under the railings and between posts. Floorboards were of yellow pine.
Today, it is a nondescript bridge supported by the very same stone abutments and oak trestles placed two abreast and 56 feet apart. The 16-foot wide deck carries pedestrians for 60 feet at a height of only 6 feet and 5 inches above the water.
Sad to say, only three drawings of the original Oak Bridge remain. A mason's drawing shows stone abutments and piers. A scribbled note says: "Thickness of wall calculated for good ground only." A carpenter's working drawing shows the fine detail of fencing along the balustrade.
Since wood construction needs more maintenance than stone, Bank Rock has periodically gone into decay. The present restoration, instead of the original cast-iron railing, has railing of steel pipe.
In 1982, Bank Rock Bridge was rehabilitated for strictly utilitarian purposes. Deteriorating dangerous wood decking was replaced. All the woodwork was thoroughly treated with a preservative; modern steel railings were refitted and painted a dark brown color.
Bank Rock could be rebuilt exactly like the original Oak Bridge, using the same materials in a similar design.
It should be mentioned that Bank Rock is a popular rendezvous for bird watchers bent on exploring the Ramble in spring and fall. Being on the Lake it offers a handy lookout for waterfowl.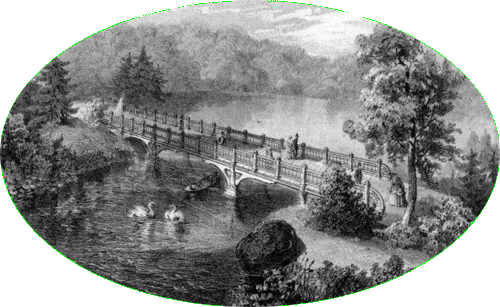 Lithograph. "Bridge: For Footpath West of the Ramble."
Third Annual Report, Central Park, for 1859.