GREENSWARD FOUNDATION
BOOKS AND PAMPHLETS
---
---
Bridges of Central Park
Ornamental Bridges and Archways
16. DENESMOUTH ARCH
Denesmouth Arch, among the earliest of Calvert Vaux's bridges, supports the 65th Street Transverse near Fifth Avenue and permits major north-south pedestrian traffic to pass under the arch between the Dene and the Central Park Zoo. (A block further north, a parallel archway of modern granite was added in the mid-1950s to allow pedestrians to walk north unimpeded, after another access road was constructed for the separation of alternate crosstown traffic).
Denesmouth is constructed of pale-olive New Brunswick sandstone, blackened by years of exposure. The arch is visually strengthened by the voussoirs, alternately long and short, fanning outward, spanning 37 feet 3 inches, with its top 14 feet above the path.
The balustrade of Denesmouth Arch has four large posts, which originally carried ornate bronze lampposts, elegant and monumental in character. Three of these lampposts were stolen several years ago, and the fourth is now in storage, as a model if future replacements are installed on the bridge.
Frequently in the park bridges there is Gothic detail because Vaux was very much part of the Gothic Revival of the Romantic Era. It is seen in the quatrefoil circles of the balustrading and in the base of the buttresses. The surface of the sandstone revetment is part tooled and part smooth. Unusual among park bridges, Denesmouth is all of sandstone, including the interior vault and walls.
Early photographic views of the Arsenal and Menagerie show Denesmouth Arch as a prominent and stately structure providing an interesting transition between the formal area around the Arsenal to the tranquil natural outcroppings by the Dene.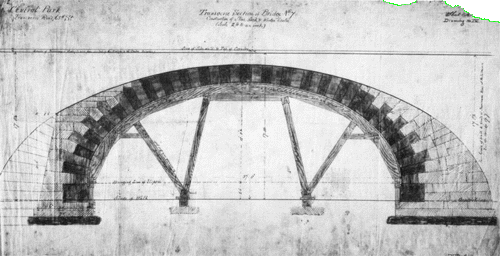 Original drawing showing construction of stone arch and wooden center. 1859.
Municipal Archives.