GREENSWARD FOUNDATION
BOOKS AND PAMPHLETS
---
---
Bridges of Central Park
Ornamental Bridges and Archways
9. WINTERDALE ARCH
Winterdale Arch, along the West Drive by 82nd Street, was so named because it was part of what was known as the Winter Drive. On both sides in this stretch were planted evergreens for winter color. The imposing breadth of its arched opening is enough to host both the bridle path and a pedestrian path separated by an ordinary pipe rail fence running under the dark hollow.
Foundations for Winterdale Arch were laid in 1860, and most of the work was completed, and the structure pressed into service, within a year's time. The cast-iron railings, small portions of the wing walls, and detail work were finished in 1862. Twenty-seven original drawings of it are preserved at the Municipal Archives.
The wide, elliptical arch has a span of 45 feet 6 inches, the largest span of all the stone and brick bridges, and a height of only 12 feet 3 inches. The arch is faced with smooth Maine granite and set in regular ashlar sandstone moldings that follow its contours. Buttresses to either side of the arch curve down to low supporting walls with posts treated as stylized urns. The interior vault and walls are lined with Philadelphia pressed brick interspersed with Milwaukee white brick in a cross pattern.
The ornamental cast-iron railings have been virtually destroyed by repeated automobile accidents. Expedient pipe rail and chain-link fencing have been installed for public safety.
At the time of publication Winterdale is in sorry shape with fallen coping. In its restoration an attempt might be made to bring back the original ironwork.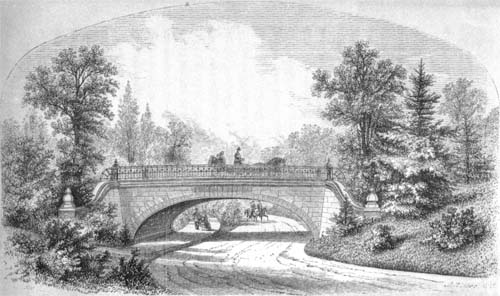 "Archway under Drive for Bridle-Road and Walk, North-West of the Ramble." Lithograph.
Seventh Annual Report, Central Park, for 1863.