GREENSWARD FOUNDATION
BOOKS AND PAMPHLETS
---
---
Bridges of Central Park
Ornamental Bridges and Archways
5. EAGLEVALE BRIDGE
This bridge, named Eaglevale for this book, is near the bust of Alexander von Humboldt, the great German naturalist and explorer of South America, at the Naturalist's Gate, the 77th Street entrance on Central Park West. (The bust, by Gustav Blaeser, given to the park by the city's German community in 1869, first stood in the Ramble at the foot of the Gill, then migrated to the East Drive and 59th Street before coming to rest here in 1982.) The bridge was constructed near the turn of the century with the development along Central Park West.
Eaglevale Bridge carries an access road to the West Drive from Central Park West over the bridle path and what was a narrow arm of the Lake going from Balcony Bridge to the Ladies' Pond directly to the south. The Ladies' Pond, considered a nuisance, was filled in around 1936 and its site given over for the playground that is there today. The one-time presence of the Ladies' Pond explains the need for a second arch in addition to the one over the bridle path. That there was once a branch of the Lake here is the reason why the nearby lawn and the bridle path are under water after a storm.
The handsome structure has revetment in blocks of gneiss in rockface random ashlar although the stones are not as big nor as "rustic" as those of Riftstone Arch four hundred yards to the south. Between the two spans, on either side, are balconies resting on buttresses.
Eaglevale Bridge is 150 feet long and 36 feet wide. The west arch is 13 feet 6 inches high over the bridle path and 31 feet wide. The east arch is 18 feet high over the filled-in arm of the lake and 33 feet 6 inches wide.
The few later bridges in the park continued to be built in the Vaux tradition. This was even true of a transverse road. When a new westbound access was made for the 65th Street Transverse on its Fifth Avenue end, it was given a traditional bridge of stone in the mid-1950s.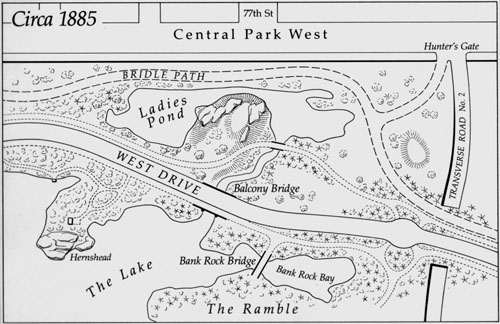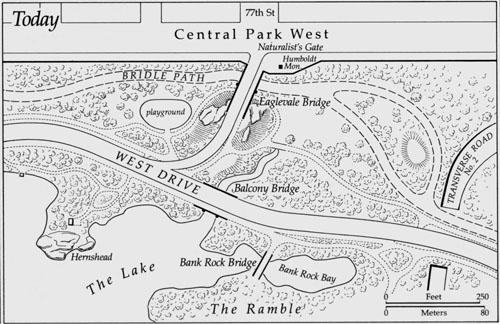 George Colbert, cartographer, 1989.