GREENSWARD FOUNDATION
BOOKS AND PAMPHLETS
---
---
Bridges of Central Park
Ornamental Bridges and Archways
4. RIFTSTONE ARCH
This unobtrusive archway is near Central Park West and 72nd Street, just inside the park entrance and directly across the street from the famous Dakota apartments. Under Riftstone is the north-south bridle path, hidden from pedestrian and automobile traffic inside and outside the park by plantings. Surrounding terrain obscures Riftstone's elevations and puts it almost totally out of sight; gently sloping hillsides and vistas in the park draw attention elsewhere. All automobile traffic entering or leaving the park at 72nd Street passes over Riftstone Arch.
By the use of little or no mortar and of megalithic blocks of Manhattan schist, the rustic note is conveyed. Vaux's aim was to have some "natural" bridges in his picturesque landscape. Those of brick and mortar would, in a number of instances, have appeared "unnatural."
The segmental arch is low and wide, measuring 30 feet across and 11 feet 10 inches in height. Abutments are concealed in the surrounding landscape by large boulders and surrounding trees and shrubs.
Bearing sharp right at the West 72nd Street entrance, descending to the bridle path past an osage orange, the park explorer will obtain a clear view of the bridge. No one can fail to be impressed by the skillful use of the rough blocks of Manhattan schist from the park itself.
The bridle path has been fenced off to the north of the bridge with no riding permitted south of that point. The problem here, and elsewhere when the bridle path goes beneath a bridge, is flooding. Until the drainage is improved, water and mud from erosion flow beneath Riftstone with every storm.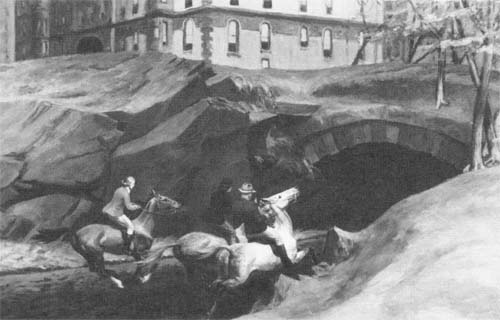 Horseback riders entering Riftstone Arch, with the Dakota in background.
Bridle Path.
Edward Hopper. Oil on canvas. 1939.
San Francisco Museum of Modern Art
.