GREENSWARD FOUNDATION
BOOKS AND PAMPHLETS
---
---
Bridges of Central Park
Ornamental Bridges and Archways
29. HUDDLESTONE ARCH
Of all the archways in Central Park, Huddlestone is the most picturesque. To sit at Huddlestone's southern portal on a spring day in the Ravine is not to be in New York, but in a country setting where forsythia abounds and the sound of a gently flowing brook soothes the spirit.
It is a part of the park that is much more natural, unspoiled, and much less utilized, bordering the Harlem Meer, while providing a less-trafficked retreat off the beaten path. Things change above it, however, since Huddlestone carries the Drive.
The bridge is striking for the immense size of its boulders. One lodged in the base is reputed to weigh close to one hundred tons. Vaux's instructions to the men building Huddlestone were to choose boulders lying around the park that were most reminiscent of untamed nature. Unlike many bridges further south in the park with precisely cut stone in ordered patterns or with delicate ironwork, the boulders of Huddlestone Bridge look as if they were brought together by some natural phenomenon that just happened to leave a 22-foot wide, 10-foot high arch. But, like all the other park bridges, it also was man-made.
A stream, parallel to the footpath, runs through Huddlestone's archway, disappearing from view at the northern end, when suddenly the natural juxtaposition of trees, rocks, and a brook is ruptured by asphalt, fences, and the concrete mass of the Lasker Rink.
Huddlestone was created in 1866. Almost ninety years later, an iceskating rink and swimming pool were built north of it when several wealthy sisters decided it would be nice to "do something" for Central Park. Parks Commissioner Newbold Morris, horrified by it, fought the plan to build the massive structure. Unfortunately, he was overruled.
In season, one of the attractions of Huddlestone is the lacelike vines that spill over the cyclopean rock on the bridge's south side.
Recently there have been attempts to deny credit for Huddlestone to Calvert Vaux in the mistaken belief that Olmsted was responsible for massive rustic bridges in the park. In view of the former's instructions to the builders in this instance, it is obvious that the guiding artistic hand, as elsewhere in the park, was that of Vaux.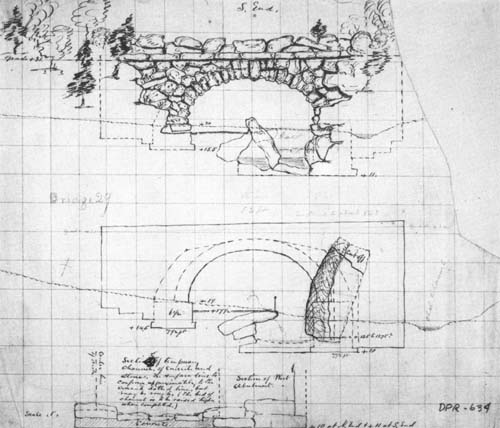 Original sketch. 1866.
Municipal Archives.