GREENSWARD FOUNDATION
BOOKS AND PAMPHLETS
---
---
Bridges of Central Park
Ornamental Bridges and Archways
19. BOW BRIDGE
Bow Bridge, so familiar to all friends of the park, stands today as the most revered of all the Central Park bridges. The grace and style of the balustrade and the story of cannon balls set in its base somehow set Bow Bridge apart. Like the others, it is in scale and harmony with the surroundings, connecting the Ramble and Cherry Hill with a graceful arch over 60 feet of the Lake. But Bow Bridge is extraordinary, the quintessence of good design.
Original plans for the abutments' interior note the presence of cannon balls as movable bearings at the Ramble end of the span, to allow the cast iron to expand and contract. Unitized girders span 87 feet, with an expansion differential of 2 to 3 inches from the hottest summer day to the depths of winter's cold. The bridge is 15 feet 8 inches wide and its arch rises 9 feet 6 inches above the level of the Lake. Some 19 drawings survive in the Municipal Archives.
The span was constructed in 1859-60, with ironwork provided by Janes, Kirtland & Co. While work was underway, the company won the contract for the dome of The Capitol in Washington, D.C. Bow Bridge was rushed to completion, with minor changes made to save time. In 1862, the railing was in place.
It was not one of the easier bridges to build. The north bank of the bridge is lower than the south bank, so the northern abutment is taller. But when completed, with its 142-foot balustrade and wood walkway, Bow Bridge became a picturesque backdrop for ice skaters and boaters.
Designed by Calvert Vaux and Jacob Wrey Mould, the interlacing ornamental-iron railing follows the style of the time, piercing with Gothic cinquefoils, mixing details that are essentially classical Greek along with foliated ornament in the more lavish taste of the Renaissance.
Like other cast-iron structures in the park, the bridge, through attrition, would end in disrepair. By the early 1970's, crumbling stone and eroding iron characterized Bow Bridge. Plans to restore the bridge were prepared by William and Geoffrey Platt, architects. In 1974, a $368, 000 restoration was completed by P.A. Fiebiger, Inc. made possible by the munificent gifts of Lucy G. Moses, and Lila Acheson Wallace. The subsequent structural repair of the original genuine puddle wrought iron plates was funded by The Vincent Astor Foundation and by The J. M. Kaplan Fund.
Vases atop the end posts that were part of the bridge's original ornamental design were not restored. There are no plans to replace them.
Today, Bow Bridge remains one of Central Park's most notable sights.

Third Annual Report, Central Park, for 1859.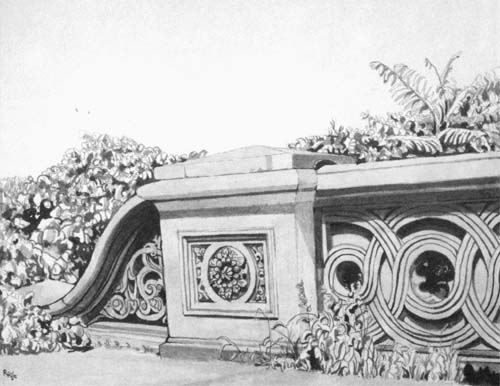 Terminal of balustrade. 1971. Ronald Rife.