GREENSWARD FOUNDATION
BOOKS AND PAMPHLETS
---
---
Bridges of Central Park
Ornamental Bridges and Archways
11. DRIPROCK ARCH
Driprock Arch, listed as fully completed in the Third Annual Report dated January 1860, is located under the Center Drive north of Sixth Avenue between the latitudes of 62nd and 63rd Streets. Originally, the archway provided passage for the bridle path later eliminated with the expansion of the Heckscher Playground in the 1930s.
The bridle path extended eastward, passed under Driprock Arch, around the rim of the north arm of the Pond, now filled by the Wollman Skating Rink, passed under Green Gap Arch at the latitude of 64th Street under the East Drive, and turned southward leading to the Scholar's Gate at Fifth Avenue and 60th Street.
The Drive is still carried over the arch but a pedestrian walkway is now underneath. An elliptical archway framed in sandstone, Driprock spans 24 feet, reaching a height of 11 feet. The underpass runs for 65 feet while the balustrade extends 79 feet 8 inches.
Driprock suffered considerable deterioration through the years due to weathering. It is one of the few archways where red brick is used for revetment, combined with sandstone trim at the arch and the balustrade. Octagonal insets with rosettes add touches of color and texture.
Above the arch and red-brick spandrels rests the cornice and the balustrade with its open stonework of Gothic detail in New Brunswick sandstone. A number of the sandstone balustrade pieces have been replaced by cast stone, an expedient remedy considering the plague of the balustrades along the park drives: careening cars.
Driprock's horizontal line blends with the surrounding landscape. Near its northeastern side is a large osage orange. In the 1850s it was considered very much of an exotic, a native of the Southwest.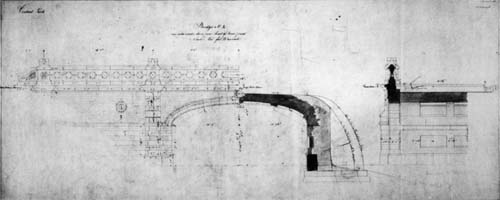 Elevations and transverse sections. Original drawing, signed CV (Calvert Vaux). 1858.
Municipal Archives.