GREENSWARD FOUNDATION
BOOKS AND PAMPHLETS
---
---
Bridges of Central Park
Ornamental Bridges and Archways
6. BALCONY BRIDGE
Balcony Bridge has a 12-foot-wide, 65-foot-long walk on its east side. Two bays are corbeled out, forming small balconies with stone benches. With Olmsted and Vaux's plans for a special "winter drive" along this portion of the West Drive, considerable effort went into making this splendid vantage point to view the scenery either while driving, riding, or walking. The bridge provides the most scenic of all views over the Lake toward the Central Park South and Fifth Avenue skylines.
Looking southeast the beholder sees a sheet of water, then clustered trees and, above, the uptown towers of Manhattan. The towers may not have been on Olmsted's and Vaux's agenda but they add quiet drama to the scene. The stately bridge is also located not far from one of New York's great museums, the American Museum of Natural History, somewhat north of the latitude of the Naturalist's Gate.
Eighteen drawings of the Balcony Bridge survive in the Municipal Archives. One sheet, marked as a stonecutter's working drawing, shows the individual blocks of stone drawn to shape with specific dimensions. Calvert Vaux designed the bridge while William H. Grant, supervising engineer, reviewed it for structural values.
Supporting the West Drive, this structure spans a narrow strait between the Lake and what was the Ladies Pond, the western arm of the Lake close to Central Park West. Reserved exclusively for ladies iceskating in the 1870s, it was filled in during the 1930s.
The bridge's arch is constructed of Manhattan schist excavated in the park, and mountain greywacke, a light-bluish sandstone set in random ashlar. The elevation shows an elliptical arch outline with a sandstone molding and coping. This arch measures 27 feet across and 11 feet 6 inches high, a little more than enough to allow passage underneath while standing up in a rowboat. The underpass is 65 feet long. There are no balconies on the bridge's west side, a rare example of a bridge with different sides, the only other in the park being Trefoil Arch.
Parts of the sandstone railing with open quatrefoil pattern have been replaced by indifferent cast stone rather than cut stone. Viewed from the Ramble, the light-colored stone Balcony Bridge stands out from the lakeshore and is often dramatically reflected in the surface of the water. Its elliptical arch is further emphasized by the jutting prominence of the balcony supports. Clarence Cook in Description of the New York Central Park (1869) believed this to be one of the handsomest bridges.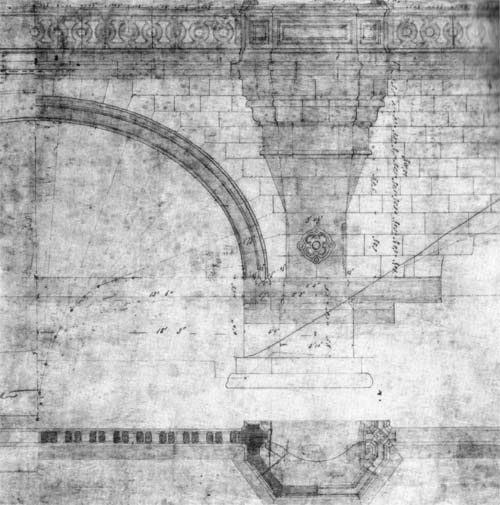 Elevation, plan and section of bridge, parapet, and balcony. Original drawing. 1858.
Municipal Archives.