GREENSWARD FOUNDATION
BOOKS AND PAMPHLETS
---
---
Bridges of Central Park
Ornamental Bridges and Archways
27. SPRINGBANKS ARCH
Springbanks Arch, with a striking resemblance to some of the archway facades at Regent's Park in London, is a shaped-stone and brick-masonry structure located at the north flank of the North Meadow on the latitude of 102nd Street. It was designed by Calvert Vaux, detailed by Jacob Wrey Mould in 1862, and completed in the next year.
A short flight of uneven slab steps leads down to its underpass. Its semicircular arch is segmented with rough stone from the Hudson River Valley. Narrow, long, but with little headroom, the archway measures 17 feet 5 inches across, 9 feet 2 inches high and 71 feet long. Red brick lines the passage. A modified entablature follows the shape of the arch at the center and extends outward along the revetments that curve at right angles into the soil. The abutments are covered with soil and planting. A cast-iron railing on the south side is 50 feet 8 inches long.
Springbanks is among the more obscure Central Park archways. It passes under the bridle path and a defunct bit of the Drive once used as a link between the East and West Drives. The concrete walk beneath the arch was originally one-half its present width. A stream fed by a spring that drains the North Meadow south of the arch flowed underneath as well, adjacent to the walkway, similar to the passage beneath the Glen Span, but the Springbanks passageway is twenty feet longer.
The spring is now piped beneath the concrete pavement. You may hear water rumbling, but you cannot see it.
In an early spring freshet, with the melting snow and much rain, the flood of water draining from the North Meadow cascades beneath the bridge. Rushing north it joins Montayne's Rivulet to flow underneath the Lasker Rink into the Harlem Meer. The park amateur who ventures here on any day of hard rain will see one of the more astonishing sights in the park, what appears to be a veritable Niagara.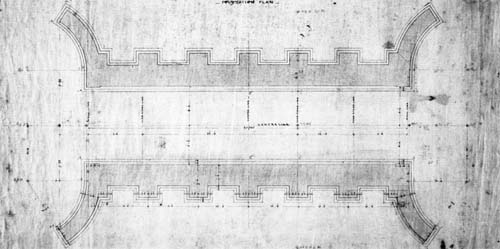 Foundation plan. Original engineer's drawing. 1863.
Municipal Archives.