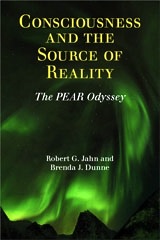 I wanted to quickly post about a new book by Robert Jahn and Brenda Dunne called Consciousness and the Source of Reality. From Dean Radin, author of The Conscious Universe and Entangled Minds:
"Princeton University's PEAR Lab, definitively documented in Jahn and Dunne's masterful book, has consistently challenged one of science's most stubbornly held assumptions—that objective reality is completely independent of consciousness. Their experimental evidence is persuasive, tantalizing, and ultimately staggering in its implications. Orthodox thinkers will protest, but the scientific revolution is charging ahead and this book blazes the trail."
Also, if you're going to be in Virginia on June 10, Carlos Alvarado is giving a lecture that night from 7-9pm at Atlantic University titled: The Spirit in Out-of-Body Experiences. The address for Atlantic University is 215 67th Street, Virginia Beach. It's $25 in advance or $35 at the door. To register call (757) 428-3588, or email info@atlanticuniv.edu.